---
Figure 44: Montage of miscellany and waste.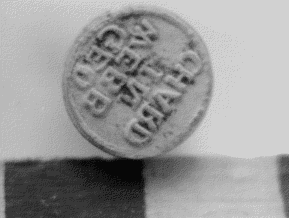 a - Pipeclay stamp 'GEO WEBB IN CHARD' from Chard, Silver Street. 1675-1700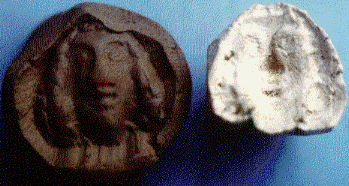 b - Pipeclay stamp, male face with long hair, from Trowbridge, Church Street. 1650-1700.

c-e Pipe clay objects from Trowbridge, Church Street. c bottom centre is side view of the stamp shown in b above. e left and centre heel trimmings with the mould join clearly visible. 1650-1700.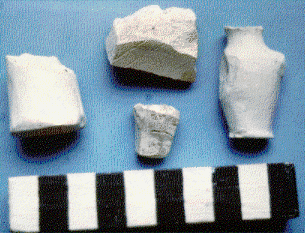 c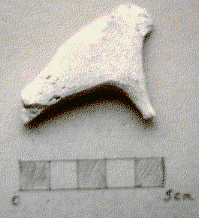 d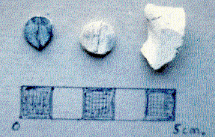 e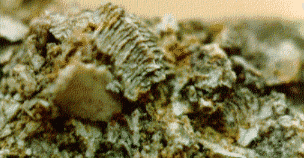 f - Typical trimming fragment formed when a tool is drawn along the stem seam to remove it. This example is from Leicester, Causeway Lane. c. 1810. Similar fragments have been noted from a number of sites, individually, picked up on the surface of furniture supplements and as masses compressed into bricks and bats.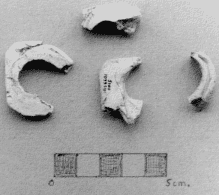 g - Trimming rings from Ipswich, Neptune Quay. These are formed from excess clay forced from the bowl by insertion of the stopper and cut off with the knife. 19th century.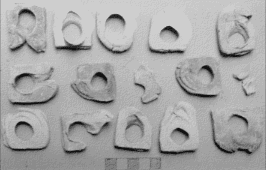 h - Trimming rings from Leeds, Cottage Street. The display of Samson Strong's workshop in Kirkstall Abbey Museum includes a box of unfired clay wasters and trimmings. The illustrated rings are from this box. 1882-1950