---
Figure 57: Kiln at Northgate, Canterbury.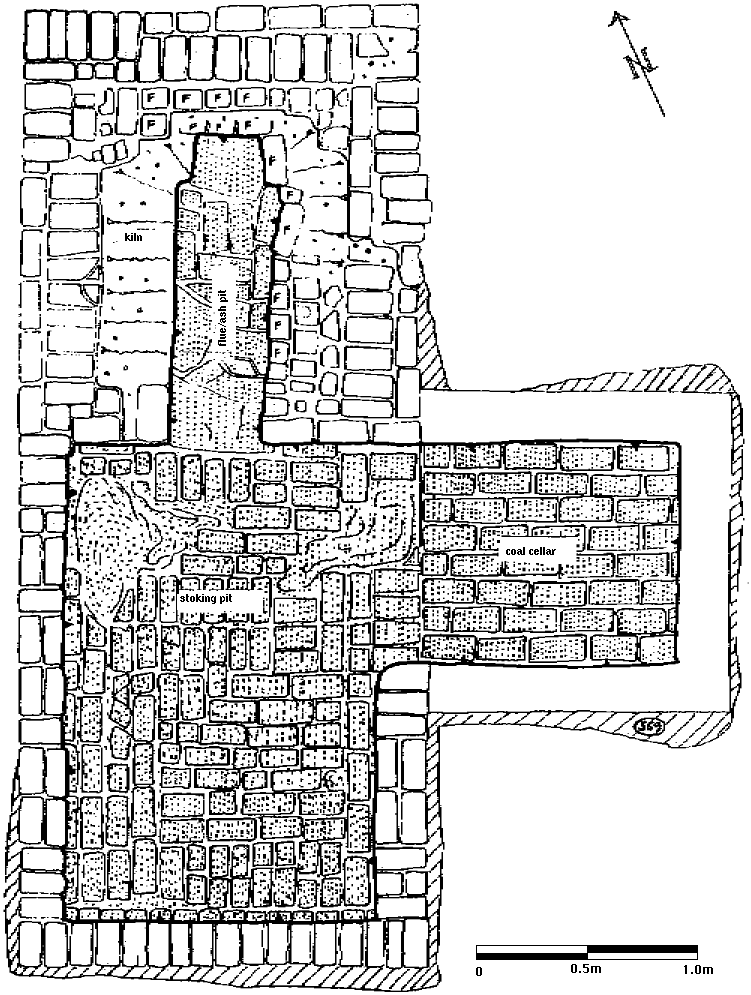 Excavated in 1989 by this author for the Canterbury Archaeological Trust Ltd. The site is as yet unpublished. The figure is a true representation of the site plan. The photographic record in this author's possession consists of 17 black and white photographs and 6 colour transparencies. There are additional photographs at the Trust's offices. Documentary evidence records William Brisley as a pipemaker working in Canterbury in 1845 (Oswald 1975, 175). In the 1851 census he is recorded as a pipemaker in Northgate Street, aged 23, born at Sheerness (CPL H0107 1624 1-364). By the time of the 1861 census he is married to Jane, with a daughter aged 5 and a son aged 4 (CPL RG9 519). He is listed again in the Maidstone, Canterbury, Dover and Tunbridge Wells Directory and Court Guide 1865, but in the 1871 census his former abode is occupied by Thomas Brice, a butcher (CPL RG 10 1871 R). The typological date for the pipes found in the later repairs to the kiln structure are consistent with a working period circa 1840 to 1870.

The layout and workmanlike construction of this kiln is remarkably similar to the previous example. In this case there is no wall dividing the stoke pit and coal cellar at the surviving level. See Figure 86.

CPL...Canterbury Public Library.