Listening to Landscapes: Modelling Past Soundscapes in GIS
Dimitrij Mlekuz
Department of Archaeology, Faculty of Arts, University of Ljubljana, Slovenia. dimitrij.mlekuz@uni-lj.si
Cite this as: Mlekuz, D. 2004 Listening to Landscapes: Modelling Past Soundscapes in GIS, Internet Archaeology 16. https://doi.org/10.11141/ia.16.6
Summary
The main motivation behind this article is to encourage new ways of approaching landscapes (i.e. 'listening to' instead of just 'looking at' them). This article challenges the privileged status of vision in modern humanistic-oriented GIS studies and thereby stresses the importance of multisensuous approaches within the study of past landscapes.
The article is divided into three parts. Firstly, it offers some theoretical perspectives on the perception of sound and its role in social life, and reviews some conceptual problems concerning modelling perception within GIS.
Secondly, it guides the reader through the process of constructing a digital soundscape model. The main goal of this article is to develop tools and approaches to understand past soundscapes. The process of creating a soundscape model is illustrated using an example from the late medieval soundscape of church bells in Polhograjsko hribovje, Slovenia.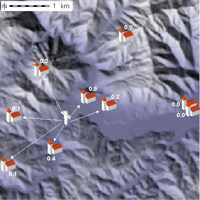 Digital model of soundscape.
Thirdly, the article offers some technical and mathematical background to the model and presents the use of the software package which is freely available with the paper.
The model presented is still in its infancy and much discussion and further development need to be undertaken. Its rationale and potential are addressed here.
Go to article Table of Contents
Features
This article will appeal to:: Archaeologists interested in perception, landscapes, GIS and theory and also anyone interested in soundscape studies and/or sound propagation modelling in GIS
Key Features: Challenges the privileged status of vision in modern humanistic-oriented GIS studies, Offers some theoretical perspectives on the perception of sound and its role in social life, Develops tools and approaches to understand past soundscapes.
Keywords: landscape archaeology, GIS, sound, soundscapes, perception
---
© Internet Archaeology
Last updated: Thur Nov 11 2004