---
Section 4: A Practical Evaluation of XML Technologies and TEI P4 for Archaeological Markup and Multi-layered Presentation
4.1.1 The North Yorkshire County Council HER and development-led archaeology
Archaeological work in North Yorkshire
There is still no entirely satisfactory solution to many of the publication problems first recognised in the era of 1970s 'rescue' archaeology, as discussed in Section 1, and the rate of new archaeological projects continues to increase. In the county of North Yorkshire, which provides the background context for the grey literature reports used in the case-study for this article, there have been nearly a thousand developer-funded archaeological projects of all kinds over the past five years, with an average of 183 each year (see Fig. 7). These projects arise mainly as a result of advice given by the author, acting as archaeological advisor to the seven District Councils within North Yorkshire, as well as advice given by archaeology staff in relation to strategic County Council planning and development matters, highways, utility and other works. All of these projects have produced a 'grey literature' report, the majority of which have been deposited with the North Yorkshire HER, with only a handful of projects progressing even to summary stage, let alone full publication. The two National Parks within the County, the Yorkshire Dales and North York Moors, employ their own archaeologists in-house, and maintain their own HERs. These areas are excluded from the statistics presented in Figures 7 to 9 below.
The AIP Project has identified that North Yorkshire has one of the greatest numbers of different organisations carrying out archaeological work (Darvill and Russell 2002, 61). Analysis of the most recent records in the HER shows that there have been a total of 101 different organisations working in North Yorkshire on archaeological projects since 1999. Figure 9 shows those organisations working in North Yorkshire that have carried out more than fifteen projects in this five-year period. The majority of these 101 organisations undertake 'one-off' projects, or fewer than ten. The 'top' thirteen contractors are all from Yorkshire and the North East, and none work exclusively in any one area. Some have particular affiliations with specific companies who use them on a regular basis wherever the geographic location of the project.
Figure 8 shows that the majority of events are either watching briefs or evaluations (comprising trial trenching, geophysics and desk-based assessments). Figure 9 indicates that the companies undertaking the greater majority of projects within the County are Northern Archaeological Associates (NAA) and MAP Archaeological Consultancy Ltd. These data have been used as the basis for the selection of the three NAA report examples for this case-study (see 4.1.3).
The vast majority of projects in North Yorkshire do not progress to full, traditional publication. The most common means of disseminating project results, other than via deposition with the HER are through the annual CBA Forum publication produced by CBA Yorkshire and distributed to members, or through project leaflets sponsored by the developer, individual monographs prepared specifically for publication by the contractor, or through summaries and notes published in annual period journals such as Britannia and Medieval Archaeology.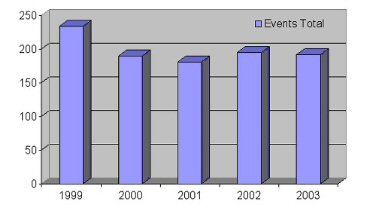 Figure 7: Annual numbers of archaeological events in North Yorkshire 1999 to 2003 (data compiled by author from North Yorkshire County Council HER)
Written schemes of investigation for archaeological projects prepared by the Heritage Section of North Yorkshire County Council (NYCC) outline requirements for the content, timing of production and place of report deposition, in accordance with an NYCC 'Reporting Checklist', as well as national guidelines (ACAO 1993; ALGAO 1997; IFA 2001a-e). There is, however, often a period of several weeks, months or sometimes years between the end of work on site, and the production of a report. There may also be issues of client confidentiality or site sensitivity (see 2.3.1).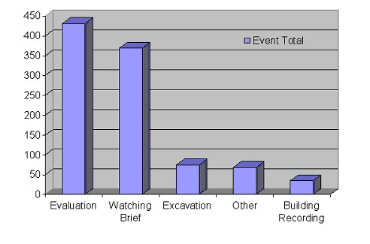 Figure 8: Archaeological events in North Yorkshire 1999 to 2003 summarised by nature of work (data compiled by author from North Yorkshire County Council HER)
The majority of digital archives for these small-scale projects still rest with the original excavators. This is a national concern identified in Condron et al. (1999). If there was greater awareness of the findings of recent projects and if these data were to be available in electronic format for circulation, it is felt that such archives could be opened up to wider use.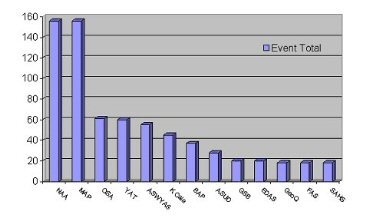 Figure 9: Organisations working in North Yorkshire 1999 to 2003 that have carried out more than 15 archaeological events (data compiled by the writer from North Yorkshire County Council HER event statistics)
HBSMR: event and source recording
Within the Heritage Section of North Yorkshire County Council, archaeological events and their related grey literature reports are recorded as part of the Historic Environment Record. The NYCC HER comprises a collection of information in hard copy format, with files organised by parish according to scheduled ancient monument records, archaeological information, general enquiries and planning application information, all held in a vertical filing system. There is also a computerised database of digital information, which acts as an index to the paper records and maps, which uses Historic Buildings, Sites and Monuments Record (HBSMR) version 3 software produced by exeGesIS Spatial Data Management Ltd. Enquiries to the NYCC HER can be made in person, in writing, by telephone, fax or e-mail, and although many HERs have made their data available online, this is not presently the case for the North Yorkshire HER, nor is it likely to be so for a number of years.
As the exeGesIS Spatial Data Management Ltd website summarises 'HBSMR is a comprehensive database, GIS and photographic data management system for the historic environment. It has been developed by exeGesIS Spatial Data Management Ltd in partnership with English Heritage's National Monuments Record (NMR) and the Association of Local Government Archaeological Officers (ALGAO). HBSMR is now used by the majority of SMRs in England, and 60 local authorities in all, to manage their historic environment information, and underpin its investigation and protection'. The HBSMR database is based around the MIDAS data standard of Monuments, Events and Sources (Lee 2003), and is used to records Monuments, Finds, Activities, Sources, Consultations and Contacts. Archaeological fieldwork data is entered into the Site Activity module of the database (see Figure 10), and details about the related grey literature report (or any other source material) are entered into the Sources and Archive module (see Fig. 11).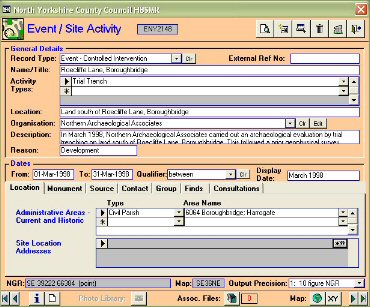 Figure 10: Screenshot from NYCC HER showing Site Activity record in HBSMR version 3.04 for Roecliffe Lane evaluation (NYE 2148)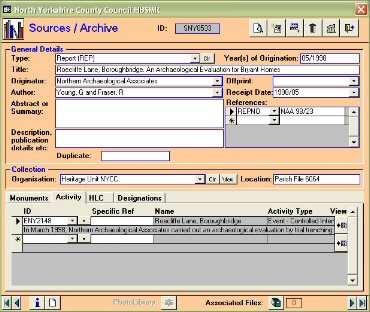 Figure 11: Screenshot from NYCC HER showing Source record in HBSMR version 3.04 for Roecliffe Lane evaluation grey literature report (NYS 8533)
Through the 'Associated Files' button on the HBSMR data entry forms, it is possible to link the Site Activity or Source record directly to a separately held electronic document or digital file, such as an associated electronic copy of a grey literature report. A small proportion, less than 1%, of all reports are submitted to the NYCC Heritage Section in digital format, as this is not a specific requirement, unlike the situation in some other HERs (Atkin 2002). Reports in PDF or MS Word format are occasionally e-mailed to the HER office, but this is usually for the purposes of requesting comments on a draft, or in order to meet a specific planning application or development deadline. In these situations, a hard-copy final version of the report will always follow. An exception recently noted by the author is that bulky Environmental Statements are increasingly being produced in PDF format and disseminated on CD-ROM to save on printing and distribution costs.
---