---
4 Multilingual Glossaries and Thesauri for Cultural Heritage
4.1. From one language to another: general and specific tools
The interest in languages stimulates the development of online digital language resources. There are thousands of bilingual and multilingual dictionaries and glossaries freely available on the Internet. They are useful for translations but also to assist in reading a text in another language. The Lexicool Directory (Figure 6) of bilingual and multilingual dictionaries, online since December 2000, currently has links to over 4000! The directory has interfaces in English, French, Italian and Spanish and new resources are being added daily. All links are checked every two months although the team takes no responsibility on the content of the resources. Most of the links are to general language dictionaries, but you can also choose by domain or keyword to find more specialised ones. For archaeology, you will find a few links to resources in English, German, French and Latin.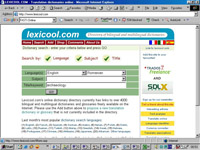 Figure 6: Lexicool search screen
YourDictionary is a language products and services portal with more than 2500 dictionaries in over 300 languages. English is the main focus. More than 1,000,000 people a month visit the website. There are a few links for archaeology and anthropology, in English.
For more specialised terminologies, professionals in each field have to work together. The European Commission, while using mainly English and French in its mountains of documents, and allocating an impressive budget for translating official texts in all languages of the member states, is concerned about multilingualism and multiculturalism but does not seem to consider it a priority. Multilingualism is more of a useful 'buzzword' to some European-funded projects than a strategy or coherent action plan. Great terminological tools for cultural heritage are missing.
There are few multilingual thesauri for cultural heritage, usually addressing restricted topics. For iconographic classification of visual resources, a well-known product is ICONCLASS. This classification system has a long history. It was developed by Henri van de Waal (1910-1972), Professor of Art History at the University of Leiden, and completed by his staff. In October 2001, the Royal Netherlands Academy of Arts and Sciences (KNAW) acquired the rights for the ICONCLASS software from the University of Utrecht. Since then, Edita, the publishing department of the Academy, has been responsible for the day-to-day management, with the Netherlands Institute for Scientific Information Services (NIWI) acting as a partner for the further development of the system.
ICONCLASS is a collection of ready made definitions of objects, persons, events, situations and abstract ideas that can be the subject of an image. ICONCLASS organises iconography into ten 'main divisions', each containing hierarchically ordered definitions:
0 Abstract, Non-representational Art
1 Religion and Magic
2 Nature
3 Human being, Man in general
4 Society, Civilization, Culture
5 Abstract Ideas and Concepts
6 History
7 Bible
8 Literature
9 Classical Mythology and Ancient History
With 28,000 definitions, 14,000 key-words and 40,000 references to books and articles on iconography, it is an impressive resource, powered online by links to illustrations from several museums, libraries and archives available on the web such as the Bildarchiv Foto Marburg; The National Gallery, London; Illuminated Manuscripts in the Koninklijke Bibliotheek, The Hague; the J. Paul Getty Museum; the Musée du Louvre, Paris; the Base Joconde of the Ministère de la Culture; the Finnish National Gallery; and Artcyclopedia. Artcyclopedia alone, a private site from Canada maintained by John Malyon, has indexed 1800 art sites as at the end of 2004, and offers over 60,000 links to an estimated 150,000 artworks by 8100 artists. From each keyword in ICONCLASS, there are links to images on the web illustrating the concept. The terminological tool acts as a web image retrieval facility, a value-added resource which broadens accessibility and interest far beyond professional circles.
ICONCLASS is also multilingual. It was originally published in English and is currently available in electronic form in English, German, French and Italian (Figure 7). Work on the translations was sponsored by a grant from the Getty Grants Program. Partial translations exist in Finnish, Spanish and Norwegian and a Hungarian one is in preparation. The translations were done by prestigious institutions in each country. ICONCLASS's controlled vocabulary is made up of alphanumeric notations which are in essence language independent. Translations concern the definitions or concepts denoted by the notation, with the keywords giving access to the system (the alphabetical index). ICONCLASS data are stored in a database with query results converted to XML. The vocabulary is available on the Web as the Libertas Browser: keywords in English, German, French, Italian, Norwegian and Finish can be used. Updates are added each year.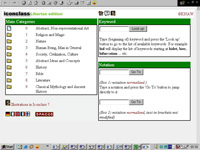 Figure 7: ICONCLASS multilingual search with the Liberta browser
This project is a good example of long-term commitment, international collaboration among public and private organisations, and use of the Internet at its best to link resources around the world.
---
© Internet Archaeology/Author(s)
University of York legal statements | Terms and Conditions | File last updated: Tue Sep 27 2005