Developing a 3-D Digital Heritage Ecosystem: from object to representation and the role of a virtual museum in the 21st century
Fred Limp, Angie Payne, Katie Simon, Snow Winters and Jack Cothren
Center for Advanced Spatial Technologies, JBHT 304, University of Arkansas, Fayetteville, AR U.S.A. Email: flimp@uark.edu
Cite this as: Limp, F., Payne, A., Simon, K., Winters, S. and Cothren, J. 2011 Developing a 3-D Digital Heritage Ecosystem: from object to representation and the role of a virtual museum in the 21st century, Internet Archaeology 30. https://doi.org/10.11141/ia.30.1
Summary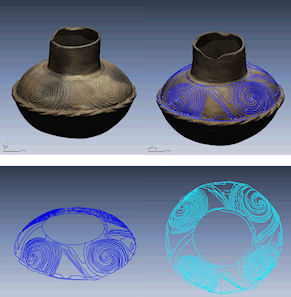 This article addresses the application of high-precision 3-D recording methods to heritage materials (portable objects), the technical processes involved, the various digital products and the role of 3-D recording in larger questions of scholarship and public interpretation. It argues that the acquisition and creation of digital representations of heritage must be part of a comprehensive research infrastructure (a digital ecosystem) that focuses on all of the elements involved, including (a) recording methods and metadata, (b) digital object discovery and access, (c) citation of digital objects, (d) analysis and study, (e) digital object reuse and repurposing, and (f) the critical role of a national/international digital archive.
The article illustrates these elements and their relationships using two case studies that involve similar approaches to the high-precision 3-D digital recording of portable archaeological objects, from a number of late pre-Columbian villages and towns in the mid-central US (c. 1400 CE) and from the Egyptian site of Amarna, the Egyptian Pharaoh Akhenaten's capital (c. 1300 BCE).
Features
This is a LEAP II project exemplar. Preparation of this electronic publication and associated archive was assisted by a grant from the Andrew W. Mellon Foundation.
Keywords: Laser scanning; 3D recording; artefacts; digital analysis; pre-Columbian; Akhenaten; Amarna; Egypt; digital archive;
Go to article Table of Contents.
---
© Internet Archaeology/Author(s)
University of York legal statements | Terms and Conditions | File last updated: Thur Jul 28 2011