---
6. Research Perspectives
Although the model as it currently stands needs some improvement, it nevertheless provides a clear idea of the potential of Web3D-based technologies for communicating archaeological data. Web-orientated VR can provide archaeologists, as well as researchers, with innovative solutions for disseminating digital contents more easily, also enabling the definition of those functions best suited to be implemented into the system. There are several interesting aspects related to the use of Web-orientated VR for managing archaeological risk. For those countries in particular in which preventive archaeology is a very touchy issue, the set-up of predictive models may be a possible answer to the need to monitor in advance vast portions of land affected by development works. GIS, which in the process of spatial analysis and predictive modelling remains a key tool in the context of landscape archaeology, may be much more effective if made available as a Web resource, and if complemented by a user interface as simple and dynamic as possible.
Compared to a traditional Web-GIS system, Web VR technologies, in this case XVR, provide specialists with a complete development environment where multiple sources can be integrated and different multimedia content combine to enhance the analytical skills of GIS.
6.1 User acceptance and issues to be faced
Figure 7: Demo showing an example of real-time navigation into the virtual model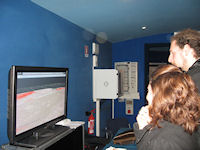 Since one of the main goals of such research was also to provide an effective, easy-to-use tool for non-experts to increase their knowledge about local history and archaeology, the Pisa coastal plain model was presented at an international conference on ancient harbours and their productive contexts, held in the city of Livorno (PDF opens in new window). A multimedia presentation was set up at the entrance to the exhibition, and a demo of the system was projected (Figure 7). In this demo visitors could see an example of real-time navigation through the coastal plain of Pisa, observing the distribution of the known sites in addition to some thematic maps, including the one showing the archaeological risk. The three-dimensional view of the archaeological landscape turned out to be an especially useful addition to the tour, since visitors were guided in understanding the issues related to the topographical location of archaeological features both visible and not visible. Nevertheless, there are certainly issues that must be addressed in the future:
Firstly, the browser visualisation needs to be settled in order to guarantee easy access to the web3D contents by the increasing community of non-IE users (Oshri et al. 2010).
As for the methodological aspects related to predictive modelling, we need to evaluate a confidence level to which the archaeological risk map should be considered a valuable tool for analysing and interpreting archaeological features. As we have seen, the debate is still on-going and a definitive solution to the problem of how to build a truly effective and reliable predictive model has not yet been found.
A possible limitation of Web3D technologies such as XVR is that its flexibility, in order to be effectively used, might have complex requirements in terms of programming skills that span a wide range, from novice to expert, depending on how sophisticated the desired interaction and visualisation needs to be. Although several sample projects to guide this process exist, much hard work on making XVR easily accessible to non-programmers is currently being carried out through the development of additional tools dealing with visual programming, application templates and automated code generation able to assist the implementation of the final application features. This will also be made possible because XVR is currently the development framework of several EU research projects dealing with several different applications of VR to many application fields (e.g. BEAMING Project and VERE Project), and the user base is widening (programmers, designers, psychologists, architects etc. all commonly need user-friendly means to independently design experiments and applications).
It is necessary to verify the effectiveness of VR in achieving the objectives of this research and then to observe to what extent those involved have a better perception of the archaeological risk by using a virtual representation of the map produced, integrated with a re-created archaeological landscape.
Another important aspect to be considered is the potential of the Web to disseminate archaeological information concerning the study context. The use of Web3D technologies should represent a helpful factor for increasing the users' ability to navigate and interact with the represented virtual model.
Once the effectiveness and the utility of such a model, in terms of analysis and communication, have been verified, it will be important to determine in what manner it could become an effective tool to those bodies responsible for archaeological heritage management and territorial planning.
The work carried out up to now has sought to demonstrate how the study of predictive modelling, which has previously been the domain of a few scholars, combined with the opportunities offered by an innovative Web-orientated technology can bring the subject of archaeological risk to a broader audience. As for the future, Web3D could turn out to be an effective tool for managing archaeological data, not just for attractively presenting research outcomes, but also to improve and enhance the analytical potential of GIS-based datasets, through an integrated, multi-source environment, thus freeing researchers to work with data.
---
© Internet Archaeology/Author(s)
University of York legal statements | Terms and Conditions | File last updated: Thu Dec 1 2011