---
Anglian and Anglo-Scandinavian Cottam: linking digital publication and archive
Julian D. Richards *
Preface
This report was originally published in conventional form in the Archaeological Journal 156 (1999), 1-110. I am grateful to the Editor, Helena Hamerow, and the Council of the Royal Archaeological Institute for their kind permission to create an electronic version, and to Jo Clarke and Judith Winters for developing the electronic report. The project was developed as an exemplar of an integrated electronic publication and archive, as described in Richards and Robinson (2000). It includes the full text of the report as published in conventional form, but with added links to archive and specialist reports, colour photographs, and interactive illustrations and plans. The reader is also enabled to carry out online queries of the finds database, or to download this or other data onto his/her own computer to conduct further analyses from the digital archive curated by the Archaeology Data Service. I recognise that this is just one imperfect model of what a fully interactive e-publication and e-archive might look like, but offer it as a contribution to the ongoing debate on archaeological publication.
Excavating at Cottam in the sunshine (Re-set)
Crop marks at Cottam
Distribution of coins found at Cottam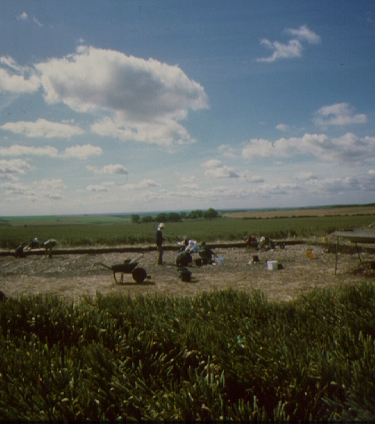 Summary
The presence of Anglian and Anglo-Scandinavian settlements at Cottam, East Yorkshire, was first indicated in 1987 by numerous finds of copper alloy coins, dress pins and strap ends by metal detector users. This report presents the results of fieldwork carried out on behalf of the Department of Archaeology, University of York, between 1993-5, including field walking, geophysical survey, and excavation. This revealed an enclosure of the eighth-ninth centuries, containing traces of a small number of post-built halls. In the late ninth century this settlement was then abandoned, a process which led to the incorporation of a human female skull in a domestic rubbish pit. A new enclosed settlement was laid out nearby, which was occupied briefly in the early tenth century. It is argued that the Anglian settlement may have been part of a royal multiple estate but that as a result of estate reorganisation after the Scandinavian settlement it developed into an independent manor. Cottam is the first so-called "productive site" in the environs of York to be the subject of archaeological investigations. The results suggest that it was a prosperous but not exceptional site, and that the primary activity was farming, with limited evidence for trade or manufacture. This work also prompts a reassessment of the typology of crop mark enclosures and the re-examination of the large number of undated enclosures in the area.
References
Richards, J.D. 1999 Cottam: An Anglian and Anglo-Scandinavian settlement on the Yorkshire Wolds, Archaeol J 156, 1-110
Richards, J.D. and Robinson D.J. (eds) 2000 Digital Archives from Excavation and Fieldwork: Guide to Good Practice, 2nd edition http://ads.ahds.ac.uk/project/goodguides/excavation/
Go to article Table of Contents
---
Department of Archaeology
University of York
King's Manor
York
YO1 7EP
Email: jdr1@york.ac.uk
---
© Internet Archaeology URL: http://intarch.ac.uk/journal/issue10/richards/index.html
Last updated: Tue May 15 2001