---
Report on the 1986 skeletal material
Human remains recovered from the 1986 expedition to the wreck were consistent with being derived from only one individual. Included were fragments of the cranium and of the postcranial axial and appendicular skeleton of a human, together with three teeth. The forensic examination was performed by Wood and Hodgson ( 1996).
Included in the 1986 material was:
An upper jaw fragment containing the left canine.
The right and left 1st premolars.
A left zygomatic bone with a fragment of the adjacent sphenoid.
A mid thoracic vertebra.
A third lumbar vertebra.
A dorsal fragment of a sacrum.
Two right mid thoracic ribs.
A left clavicle.
A humerus.
A right radius.
A right 5th metacarpal.
Right and left hip bones.
Right and left femora.
A right 1st metatarsal.
A left fibula.
A basic description of the individual is provided as follows:
"The bones were from an adult male, aged approximately 22 years. His estimated stature was 165 ± 3cm. Racial allocation was not possible from the material available. Examination of the teeth demonstrated evidence of nicotine or tannin staining, with the probable association of periodontal disease..."
"Radiography illustrated a series of terminally located Harris lines [in the humerus], indicating some form of adolescent environmental stress. No evidence of the cause of death was apparent from the remains (Wood and Hodgson, 1996).
Figure 14: Photograph taken by Wood & Hodgson (1996) showing the skeletal material recovered during the 1986 recovery expedition to the wreck site.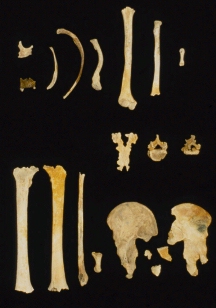 ---
© Internet Archaeology URL: http://intarch.ac.uk/journal/issue11/4/13.html
Last updated: Thu Mar 28 2002