---
Rediscovery of the Pandora
In light of the fame of the Pandora, it is no surprise that several deliberate attempts have been made to find the wreck. During the late 1960s and early 1970s, various haphazard searches were performed in and around the approximate location of the wreck (Gesner 1991). They were unsuccessful, and the wreck's position proved difficult to locate. In November 1977, the Australian documentary film-maker John Heyer teamed up with naturalist Steve Domm. They hoped that with the assistance of an RAAF Neptune aircraft carrying an airborne magnetometer, they might be able to pinpoint the wreck by detecting iron masses known to be within the wreck. By careful study of historical documents, they proposed and marked out several possible search areas. Domm's crew were aboard Revieri and before the Neptune's arrival, they coincidently met up with diver and film maker Ben Cropp in his vessel Beva. Cropp was enthusiastic to participate in this new attempt and assisted in the search for the Pandora wreck site. They had only a few hours' use of the Neptune aircraft, and therefore prior to its arrival had marked out likely positions of the wreck. The aircraft had recorded no magnetic readings until, with only a few minutes to spare before returning to base, a final aerial pass was made over a small cluster of isolated coral outcrops, resulting in the detection of a minor disturbance in the magnetic field. Smoke flares were released to mark the spot and Beva immediately went to mark the site with several buoys. Beva then anchored by the site and the next day commenced a systematic search of the seabed (Coleman 1990; Gesner 1991).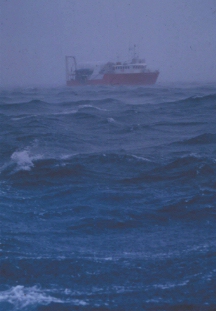 Figure 6: The excavation vessel Pacific Conquest anchored over the wreck site
Image used courtesy of the Queensland Museum
Although precise identification of the wreck was yet to be made, divers located an Admiralty pattern anchor and later located rudder fittings on top of a nearby reef outcrop, strong indications that they had indeed found the Pandora. Cropp and Domm were awarded $5000 each for their discovery (Fraser 1980).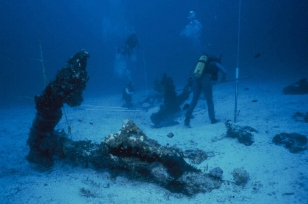 Figure 7: Divers nearby one of the Pandora's anchors.
Image used courtesy of the Queensland Museum
---
© Internet Archaeology URL: http://intarch.ac.uk/journal/issue11/4/9.html
Last updated: Thu Mar 28 2002