Dea Computrix - another deity for the Roman Pantheon? Journeys in the Roman Empire CD-Rom
T. Sam N. Moorhead
Education Officer for Archaeology, Education Department, The British Museum, Great Russell Street, London WC1B 3DG. smoorhead@britishmuseum.org
Cite this as: Sam, T. and Moorhead, N. 2002 Dea Computrix - another deity for the Roman Pantheon? Journeys in the Roman Empire CD-Rom, Internet Archaeology 12. https://doi.org/10.11141/ia.12.4
Summary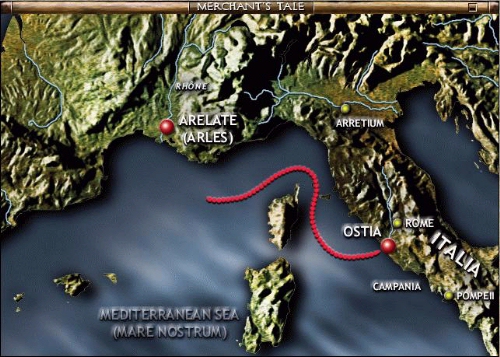 This article outlines a personal view on the content and production of a CD-Rom on the Roman world produced by The British Museum, Channel 4, Verulamium Museum and Braunarts: Journeys in the Roman Empire. I discuss some of the benefits of and problems with multimedia production and outline feedback from various evaluation projects of the CD-Rom. I also briefly discuss the future of CD-Roms in the face of a rapidly expanding internet with reference to other multimedia projects at The British Museum.
Go to article Table of Contents
Features
This article will appeal to: archaeologists and museologists who have carried out or are considering multimedia projects, multimedia companies who work with heritage organisations.
Key Features: the potential of multimedia applications to Roman history and archaeology, insights into the production of and potential problems with multimedia projects, the impact of multimedia projects on original research, the value of experience in multimedia production.
Keywords: archaeology; archeology; education; digital resources; multimedia; CD-ROMs; Romans; Roman empire; electronic publication; British Museum
---
Last updated: Thu Aug 1 2002
© Author(s). Content published prior to 2013 is not covered by CC-BY licence and requests for reproduction should usually go to the copyright holder (in most cases, the author(s)). For citation / fair-dealing purposes, please attribute the author(s), the title of the work, the Internet Archaeology journal and the relevant URL/DOI.