Geoarchaeological Observations on the Roman Town of Ammaia
Frank Vermeulen ¹, Morgan De Dapper ², Cristina Corsi ³, Sarah Deprez ²
¹ Department of Archaeology, Ghent University
² Department of Geography, Ghent University
³ Department of Philology and History, University of Cassino
Frank Vermeulen Frank.Vermeulen@UGent.be, Morgan De Dapper Morgan.DeDapper@UGent.be, Cristina Corsi C.Corsi@unicas.it, Sarah Deprez Sarah.Deprez@UGent.be
Cite this as: Vermeulen, F., De Dapper, M., Corsi, C. and Deprez, S. 2005 Geoarchaeological Observations on the Roman Town of Ammaia, Internet Archaeology 19. https://doi.org/10.11141/ia.19.1
Summary
This article presents, for the first time, multidisciplinary geoarchaeological work by a joint Belgo-Italian team from the universities of Ghent and Cassino in and around the Roman urban site of Ammaia in the northern Alentejo region of Portugal. This project is a geoarchaeological case study to investigate the conditioning effects of landscape and landscape evolution on a Roman urban site (and vice versa) in the Iberian peninsula.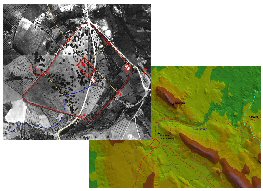 The site and landscape presentation is followed by a brief discussion of the aims and approaches of the chosen geoarchaeological strategy. With this study we approach the cultural landscape around Ammaia by means of techniques which combine methods both of the geosciences and of archaeological survey. The specific problems of assessing and reconstructing a Roman landscape, much altered by physical movements of the soil and by a two-millennia long period of human interference, will therefore be tackled in a multidisciplinary way. This means first of all making use of all relevant cartographic material, available aerial photographs and relevant satellite images. All important pre-existing archaeological information is inventoried and mapped and new fieldwork organised. This fieldwork, combining traditional archaeological survey techniques and geomorphologic observations, is being used to build a database of landscape features and sites with archaeological relevance for the period concerned. As many field data and cartographic elements as possible are being assembled in a Geographic Information System, specifically developed for this project. This GIS has already enhanced much new cartographic material of crucial importance in reconstructing the landmarks of the site and territory of Ammaia in the first centuries of our era and has helped to evaluate and interpret the evolution of the landscape shortly before, during, and since Roman times.
A large part of this contribution is dedicated to reporting on some major observations and results obtained during three field campaigns, in the summers of 2001, 2002 and 2004. These results relate primarily to three fields of archaeological concern with specific relevance to the landscape background: the tracing of the circuit wall of the Roman city, the intra-urban cartography and the supply of water to the urban area during Roman imperial times. The authors believe these investigations to be examples of good practice in the field of geoarchaeology of the classical Mediterranean landscape.
Go to article Table of Contents
Features
This article will particularly appeal to those people interested in Roman archaeology, landscape archaeology and archaeology of the Mediterranean region
Keywords: Ammaia; Geoarchaeology; Roman; Landscape; Survey; GIS; Classical archaeology; Mediterranean
---
© Internet Archaeology URL: http://intarch.ac.uk/journal/issue19/corsi_index.html
Last updated: Mon 21 Nov 2005