---
4. Case studies
4.1. Waterford harbour, County Waterford, southeast Ireland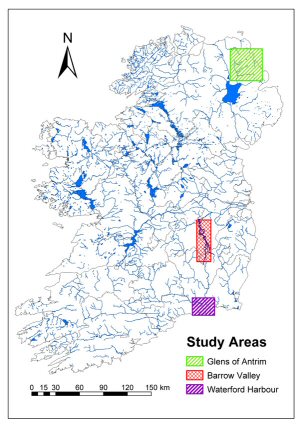 Figure 1: Location map of all three case study areas
The first example takes us to the Waterford Harbour area of southeast Ireland (Figure 1). This area represented a blank canvas in terms of evidence for early prehistoric activity until the 1980s. An intensive programme of field survey and excavations carried out by the Ballylough Archaeological Project (BLAP) between 1983 and 1989 recovered a substantial lithic artefact assemblage and identified several mesolithic, neolithic and early bronze age find locations (Zvelebil et al. 1987; Green & Zvelebil 1990). My own research in the area involved an integrated approach to the use of lithic artefacts across the landscape in the hope that this may reveal interesting aspects about people's movements in early prehistory. Here we can observe that people appear to have moved objects made of different raw materials in very different ways but also that these patterns appear to have changed and developed over time.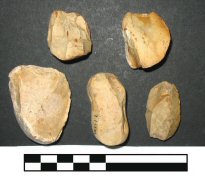 Figure 2: Bipolar flint cores from Waterford Harbour, typical for the small local flint pebbles
In relation to flint, which represents the main lithic source material in the region (Figure 2), it appears that the movements that become apparent when we consider the operational sequence across the landscape (see Conneller 2000) are tied up with people's scheduling of activities at various places within the area. The main sourcing location for the small flint pebbles would have been along the coast (Figure 3) and the emerging picture is one of people coming to the coast to collect pebbles and seemingly moving somewhat back inland before settling down to work on them (Figure 4).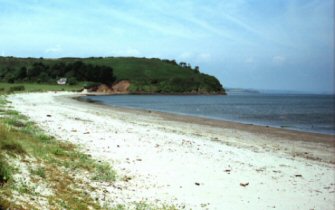 (left) Figure 3: Fornaght strand, County Waterford, facing Waterford Harbour
(right) Figure 4: Distribution and concentration of early prehistoric material in the Waterford Harbour area
There, at locations between 200 and 500m away from the shore, they would test the pebbles, discard unsuitable ones, failed cores and flaking mishaps. Once they had finished this process they would move on - apparently further inland - bringing with them ready made objects, pre-forms quickly modified to suit a particular requirement, and some of the better quality cores to produce flakes as needed. In their movements further away from the shore people would have used their objects heavily, reworked and retouched them more frequently and eventually discarding them or perhaps carefully depositing them in the appropriate place. This is reflected in the fact that finds further inland are predominated by highly worked and retouched artefacts while cores and primary material are largely absent (Figure 5).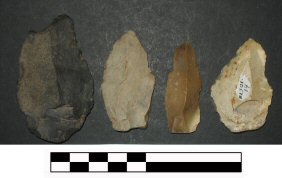 Figure 5: Diagnostic later mesolithic flakes from Waterford Harbour (The one on the far right is made of chert)
---
© Internet Archaeology URL: http://intarch.ac.uk/journal/issue22/2/4_1.html
Last updated: Tues Oct 2 2007