---
4.4.53 Southampton – Hamwic, Hampshire
The Anglo-Saxon trading port at Hamwic – Saxon Southampton – covers an area of at least 42 hectares, centred on the present suburb of St Mary's and extending to the River Itchen around 1km north of its confluence with the River Test. Despite several major excavations, only c. 4.5% of the known extent of Hamwic has been examined archaeologically.
Available dating evidence supports a foundation date c. AD 700, away from the Roman settlement at Clausentum, although the possibility of an earlier foundation date remains (Morton 1992). It has been suggested that the site was a deliberate royal foundation, developing out of a rural estate centre, which existed from the late 7th century, and whose cemetery has been excavated (Birbeck et al. 2005).
The 8th/9th-century settlement has a regular street plan of gravel streets enclosed by a boundary ditch, within which timber houses and workshops are set within individual properties. Coin finds show dramatic start in the early 8th century and high rates of coin loss for 40-50 years, followed by equally dramatic decline and then modest losses for c. 100 years. 75% of coins come from the first half of the 8th century. The site was largely abandoned by AD 900 in favour of the area to the south-west that became walled medieval Southampton, although Late Saxon activity continued around St Mary's church, and in one or two other pockets.
Hamwic had trading contacts throughout north-west Europe as well as elsewhere within England. Crafts took place within the urban plots, including metalworking, bone and antler working, spinning, weaving, and hide preparation.
The VASLE dataset was primarily sourced from the finds report published by Hinton (1996), supplemented by records from the EMC.
Fingerprint charts for i) artefact date analysis, ii) artefact type analysis, iii) artefact metal analysis and iv) coins – date of production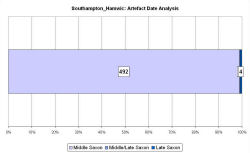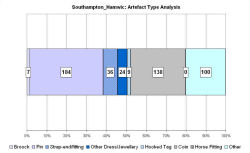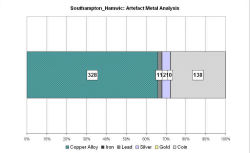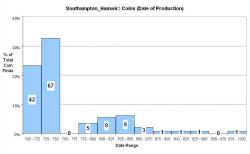 ---
© Internet Archaeology/Author(s) URL: http://intarch.ac.uk/journal/issue25/2/4.4.53.html
Last updated: Tues Apr 21 2009