---
4.4.64 Whissonsett, Norfolk
Whissonsett is a small Breckland parish, 6km south of Fakenham. The name 'Whissonsett' is thought to derive from the Old English for the fold of Wic's people.
Many Anglo-Saxon artefacts have been recovered by metal-detector users, and these are predominantly Middle Saxon in origin, probably related to a Middle Saxon inhumation cemetery and settlement discovered in 2004. Several human skeletons were noted at this site, along with shell fragments, pottery sherds and animal remains. Middle Saxon pottery sherds have also been recovered from a second site, as have strap-ends, and pins and tags. The VASLE dataset is derived from the Norfolk HER and the EMC.
Late Saxon pottery sherds, brooches, coins and other personal objects have also been found. Although no mention of a church is made in the Domesday Book of 1086, the head of a Late Saxon cross was recovered from the graveyard of St Mary's church.
Fingerprint charts for i) artefact date analysis, ii) artefact type analysis, iii) artefact metal analysis and iv) coins – date of production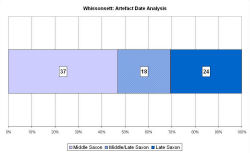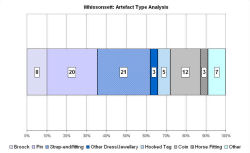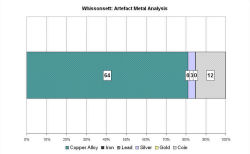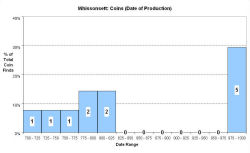 ---
© Internet Archaeology/Author(s) URL: http://intarch.ac.uk/journal/issue25/2/4.4.64.html
Last updated: Tues Apr 21 2009