---
4.4.67 Wormegay, Norfolk
The parish of Wormegay is situated in west Norfolk, 8.5km south-east of King's Lynn. The name 'Wormegay' is derived from the Old English for 'island of Wyrm's people'. The parish contains the village of Wormegay and the hamlet of West Briggs, and is bisected by the River Nar.
Wormegay has been part of the Fenland Survey, and hence it has been subject to extensive field-walking and surface collection from the late 1980s through to the present day. The VASLE dataset is derived from the Norfolk HER and the EMC. There appears to have been dense occupation on Wormegay island, an outcrop of mineral soil within the peat-filled valley of the Nar, during the Anglo-Saxon period. The presence of a Middle Saxon cemetery is indicated by pottery sherds and metal objects, along with pieces of human bone.
A detailed survey, completed in 1991, has recorded a crisply defined area of Ipswich Ware extending for 1.8 hectares next to the edge of the island on a southern facing slope. St Michael's church, a medieval building known to have been built on an earlier site, is just to the west. Metal-detecting since 1993 has revealed a contiguous concentration of metal artefacts, including large numbers of pins as well as sceattas. Concentrations of iron-smelting slag to the south-west of St Michael's church may also be contemporary (Rogerson 2003, 119). There is little evidence for Early Saxon activity and just a handul of Thetford-type ware sherds of the 10th century, although fragments of a Viking oval brooch and a possible Saxon or Viking blue glass bead with white spiral stripes are also recorded, possibly related to a Viking burial.
Wormegay is mentioned in Domesday as having a church, probably referring to St Michael's, although the earliest part of the current building dates to the 13th century. However, documentary research has suggested that a pre-Conquest estate was centred here, suggesting that it may have been an early minster establishment (Pestell 2003, 129). The hamlet of West Briggs is also mentioned, and appears to have been of similar size at this time, also with its own church. The current church of St Botolph has a Norman nave and chancel.
Fingerprint charts for i) artefact date analysis, ii) artefact type analysis, iii) artefact metal analysis and iv) coins – date of production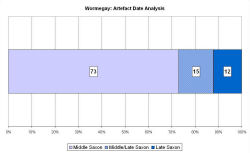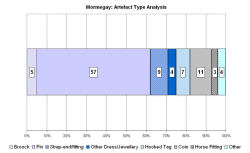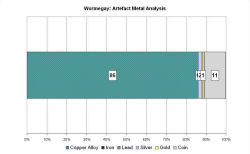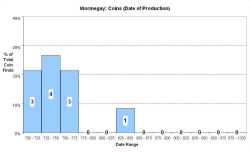 ---
© Internet Archaeology/Author(s) URL: http://intarch.ac.uk/journal/issue25/2/4.4.67.html
Last updated: Tues Apr 21 2009