---
1.2 The SASSA project
Based on the initial consultation with commercial archaeologists, a need was identified for an open-access, web-based system providing:
Tutorial-type training relating to soil processes in archaeological contexts.
Information and help with field recording and interpretation of soils and sediments. 'In the field' access to such help was also felt to be important.
Information on soils techniques, from field-based to specialist laboratory methods, linked to archaeological questions.
A database of case studies providing details of studies where soil analysis has successfully been applied to archaeological questions.
A comprehensive glossary of soil and geoarchaeology terms designed specifically with archaeologists in mind.
The SASSA project (Soil Analysis Support System for Archaeology) is funded through the UK's Natural Environment Research Council (NERC) knowledge transfer programme. This two-year project, based at the University of Stirling, aims to familiarise archaeologists with the concepts and possibilities offered by geoarchaeology.
The system consists of two discrete but closely interlinked components (Figure 1); a knowledge base built around wiki software, and a field tool that uses an XML data structure and decision-tree technology. While the field tool is accessed through the knowledge base it is a stand-alone system and its use requires a separate registration process.
The key features of SASSA are:
Information about geoarchaeological methods and techniques clearly linked to pertinent archaeological questions.
Flexibility and mobility regarding operating platform. This includes graphics light versions for PDA (personal digital assistant: a small handheld computer) and Smartphone (a mobile phone running operating systems software) that enables lower cost access via phone networks, and a downloadable version to work independently of internet connections or phone coverage.
Interactive and evolving resource. The use of wiki software and flexible editor options means that SASSA can evolve and adapt to user needs beyond the end of the development project (December 2007).
User input and testing during the development stage. The project has involved close co-operation and consultation with field archaeologists from across the UK.
Figure 1: Flowchart showing the design and layout of the SASSA webpages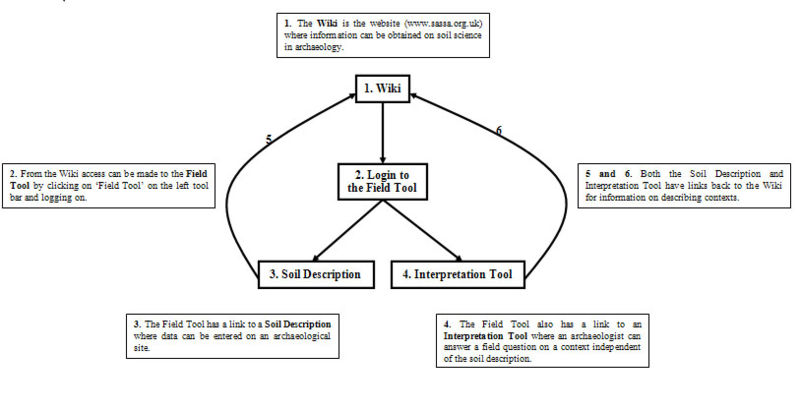 ---
© Internet Archaeology/Author(s) URL: http://intarch.ac.uk/journal/issue25/4/1.2.html
Last updated: Mon Dec 15 2008