---
3.6 The Beckhampton Avenue
On leaving Avebury via the west entrance, one is again on a prescribed pathway, the Beckhampton Avenue. Moving along the first section of this avenue, one again sees important places of the ancestors on the horizon and again the avenue prevents direct access to them. To the north Windmill Hill dominates the view and is symmetrically framed by Horslip and Millbarrow long barrows (Fig. 14). Horslip is much closer to Windmill Hill than Millbarrow, thus this is one of the few locations that give the impression of them being equally distant from Windmill Hill. Looking back over one's right shoulder Shelving Stone long barrow also appears on the horizon. To the left West Kennet long barrow and, seemingly next to it, Silbury Hill can also be seen.
As one travels along the avenue Silbury Hill recedes behind a hillock and at around this point the Beckhampton Cove comes into view. This location is also the nearest point to Windmill Hill, suggesting that this is a pivotal area of some importance, where the ancestors have full control and one is made to feel uneasy.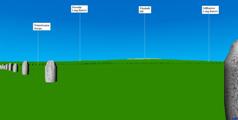 Figure 14: Windmill Hill and barrows from outside the western entrance of Avebury.
---
© Internet Archaeology/Author(s) URL: http://intarch.ac.uk/journal/issue27/3/3.6.html
Last updated: Tues Oct 27 2009