---
4. Material Culture
4.5 Ceramic objects
D. Hurst
Two weights of Iron Age date were recovered, one complete and one very fragmentary. The complete example was retrieved from pit 0098 and was a relatively unusual shape in an evenly sandy fabric weighing about 900g (Fig. 42); a similarly shaped example with a single perforation, though more rounded in overall form, was found at Beckford (Hurst in prep. b). Another weight fragment (1502) in a finer fabric could not be assigned to a particular form-type. Such weights are a typical component of Iron Age artefact assemblages, and were usually made locally, in which case the variety of fabrics suggests that the Blackstone Iron Age inhabitants had access to a range of local clay sources, though it is equally possible that this variety also represents more evidence for the importation of objects from beyond the site.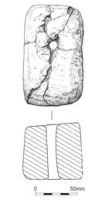 Figure 42: Ceramic weight.
The remaining object was a clay marble of late post-medieval or modern date from the topsoil.
---
© Internet Archaeology/Author(s) URL: http://intarch.ac.uk/journal/issue28/3/4.5.html
Last updated: Wed July 21 2010