1. Director, Asian Cultural History Program, Department of Anthropology, National Museum of Natural History MRC 112, Smithsonian Institution, 10th and Constitution Avenue NW Washington, DC 20560, USA. Email: taylorp@si.edu
2. Landsker Archaeology Ltd. Llys Aeron, Hebron, Whitland, Carmarthenshire, SA34 0XX, UK. Email: dave.maynard10@gmail.com
Cite this as: Taylor, P.M. and Maynard, D. 2011 Archaeological Excavations on the BTC Pipeline, Azerbaijan, Internet Archaeology 29. https://doi.org/10.11141/ia.29.1
Summary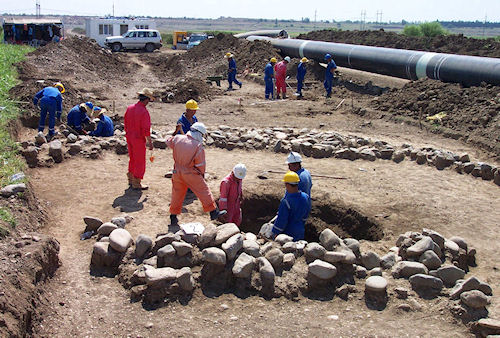 The archaeology and history of the Republic of Azerbaijan is not widely known in comparison with that of its neighbours. A recent summary of work in the Caucasus (Smith and Rubinson 2003) contained no specific references to results from Azerbaijan, although the studies were directly comparable and overlapped in period and geography. The reasons for this are many, perhaps the most influential is the presentation of material from Azerbaijan being confused with southern Azerbaijan in Iran in the wider academic audience and the use of the Cyrillic alphabet for reports written in the Azeri language over the past century.
The Baku-Tbilisi-Ceyhan (BTC) and South Caucasus Pipelines (SCP) were constructed through Azerbaijan, Georgia and Turkey during the period 2003-5. BTC was built first from the Caspian Coast to the Georgian border during 2003 and 2004, while the SCP pipeline was built from the Georgian border towards the Caspian and parallel to the BTC in 2005. To investigate and mitigate the effects of this construction, a four year archaeological fieldwork programme (2001-2005) was carried out, followed by a further six-year post-excavation programme that ended in early 2011.
This article draws on this extensive archaeological project that combines both the broad corpus of material known in Azerbaijan and new techniques introduced in the Republic for the first time and used on a range of sites that are of both national and international significance.
Smith, A.T. and Rubinson, K.S., 2003 Archaeology in the borderlands : investigations in Caucasia and beyond. Los Angeles: Cotsen Institute of Archaeology, University of California.
Features
Keywords: Azerbaijan; excavation; Neolithic; Bronze Age; Iron Age; Antique period; Albanian period; Medieval; Post-medieval; specialist reports; radiocarbon; cemetery; ceramics; digital archive;
Go to article Table of Contents
---
© Internet Archaeology/Author(s)
University of York legal statements | Terms and Conditions | File last updated: Fri Jun 17 2011