Depicting the gods: metal figurines in Roman Britain
Emma Durham
Department of Archaeology, University of Reading. Email: emma.durham@arch.ox.ac.uk
Cite this as: Durham, E. 2012 Depicting the gods: metal figurines in Roman Britain, Internet Archaeology 31. https://doi.org/10.11141/ia.31.2
Summary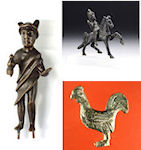 This article introduces the types of figurines found in Roman Britain. Over 1000 figurines of Late Iron Age or Roman date are known from Britain, but there has been no consideration of the group as a whole. While many individual pieces have been published in excavation reports or as notes, many more remain largely unpublished and unknown. The publication of this corpus makes the data available to a wide audience, and in particular those involved in the study of Roman material culture. While the majority of figurines are of copper alloy, there is a small number in other metals including iron and lead. The figurines from Britain comprise a wide range of types depicting Roman and Gallo-Roman deities, human figures, birds and animals. The spatial and social distribution of the major types will also be discussed.
Features
Keywords: Roman; figurines; Britain; spatial distribution; classification; metal-detecting;
This article and associated dataset will be of use to anyone with an interest in Roman material culture, in particular those engaged in active finds research. The publication of the database and photographs of all the types will provide a resource for anyone trying to identify figurines, in particular those involved with the Portable Antiquities Scheme.
Go to article Table of Contents
---
© Internet Archaeology/Author(s)
University of York legal statements | Terms and Conditions | File last updated: Tue Mar 20 2012