A Possible Astronomical Alignment marking Seasonal Transitions at Listoghil, Sligo, Ireland
Pádraig Meehan
Sriff, Dromahair, County Leitrim, Ireland. Email padraigmeehan@gmx.com
Cite this as: Meehan, P. 2012 A Possible Astronomical Alignment marking Seasonal Transitions at Listoghil, Sligo, Ireland, Internet Archaeology 32. https://doi.org/10.11141/ia.32.3
Summary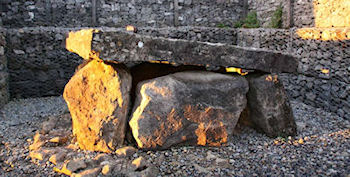 Listoghil, the central monument and focal point of the Carrowmore passage tomb complex close to Sligo in north-west Ireland, has been ruined, excavated and eventually partially restored. However, the chamber is preserved in its original position. I examine the hypothesis that Listoghil was deliberately aligned to mark seasonal transitions equivalent to astronomical cross-quarter days. The methods include a horizon survey, the isolation of directional features in the monument, and computer modelling of the monument and skyscape. Folklore and legends around seasonal transits, locally, in Ireland, and in many and varied (and independently arising) contexts at temperate latitudes of the world, are seen as information sources complementary to data gathering and observation.
Features
This article will appeal to: those interested in the archaeoastronomy of passage tombs, cultural archaeoastronomy and the investigation of putative links between folklore and archaeology.
Keywords: alignment; archaeoastronomy; Cailleach a Bhérra; Carrowmore; chambered cairn; Listoghil; Neolithic; orientation; passage tomb; seasonality;
Go to article Table of Contents.
---
© Internet Archaeology/Author(s)
University of York legal statements | Terms and Conditions | File last updated: Mon Jul 16 2012