'A Sea of Small Boats': places and practices on the prehistoric seascape of western Britain
Gary Robinson
School Of History, Welsh History And Archaeology, Bangor University. Email: g.robinson@bangor.ac.uk
Cite this as: Robinson, G. 2013 'A Sea of Small Boats': places and practices on the prehistoric seascape of western Britain, Internet Archaeology 34. https://doi.org/10.11141/ia.34.2
Summary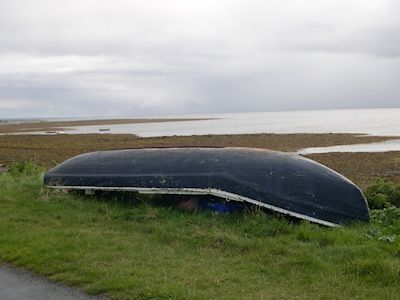 A beached currach on Inishmore, Aran Islands, Ireland (Photo: Author).
In the last 20 years landscape archaeology in Britain has developed in many directions, providing increasingly sophisticated understandings of prehistoric people's sense of place. In contrast to the growing body of work considering landscape, little attention has been given to the sea. Some archaeologists have noted the significance of the sea to the settings of monuments, where the sea is interpreted as a symbolic or metaphorical backdrop to life, and death, on the land. But prehistoric coastal, and island communities did not just gaze across the sea, but physically engaged with it, through the daily practices of seafaring and fishing. This article argues that the sea was not merely a neutral backdrop for human action, but was an active medium through which prehistoric communities lived, experienced and ordered their world. It will be argued that a consideration of the social construction of prehistoric seascapes is central to an understanding of the archaeological record of island and coastal communities in British Prehistory.
The article draws upon recent studies within landscape archaeology, maritime archaeology and maritime anthropology in order to construct a framework for exploring prehistoric seascapes. The archaeological evidence for the prehistoric use of the sea will be summarised for Western Britain and Ireland and key themes for further study identified. These themes will be examined through a detailed case study exploring the prehistoric archaeology of the Isles of Scilly. The case study will consider how we might begin to study the seascape and journeys made within it and how such journeys might be linked to the prehistoric archaeology of island and coastal landscapes. The social and symbolic meanings of the archaeological record will be investigated through an examination of their distribution, configuration and relationship to marine and terrestrial topography. It will be shown that the construction of the archaeological record of prehistoric coastal and island communities is intimately linked to the sea and that through such construction, experience of the later prehistoric landscape and seascape was manipulated and transformed.
Go to article Table of Contents
Features
Keywords: seascape; currach; curragh; Scilly; prehistory; maritime; coastal; island; fishing;
This research received no specific grant from any funding agency in the public, commercial, or not-for-profit sectors.
---
File last updated: Fri May 31 2013