Vlog to Death: Project Eliseg's Video-Blogging
Joseph Tong1, Suzanne Evans2,3, Howard Williams4, Nancy Edwards2 and Gary Robinson2
1. Archaeological Research Services, Angel House, Portland Square, Bakewell, Derbyshire DE45 1HB, UK. joseph@archaeologicalresearchservices.com
2. School of History, Welsh History and Archaeology, Bangor University, Bangor, Gwynedd LL57 2DG, Wales, UK. n.edwards@bangor.ac.uk / g.robinson@bangor.ac.uk
3. Llangollen Museum, Parade Street, Llangollen, Clwyd, LL20 8PW, Wales, UK. suze.se@gmail.com
4. Department of History and Archaeology, University of Chester, Chester CH1 4BJ, UK. howard.williams@chester.ac.uk

Cite this as: Tong, J., Evans, S., Williams, H., Edwards, N. and Robinson, G. 2015 Vlog to Death: Project Eliseg's Video-Blogging, Internet Archaeology 39. https://doi.org/10.11141/ia.39.3
Summary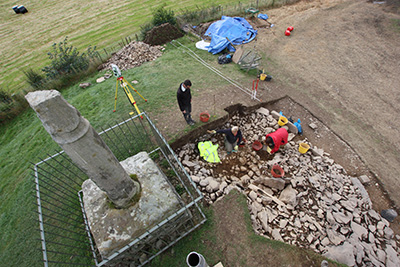 Project Eliseg involved three field seasons (2010–12) of survey and excavation at the multi-period mortuary and commemorative monument known as the Pillar of Eliseg, near Llangollen, Denbighshire, Wales. Each season incorporated an evolving range of media and public engagement activities, with digital media employed to disseminate ongoing work both globally and locally, including to those unable to access the site during the excavation seasons. One of the key strategies employed via digital media in seasons 2 and 3 was a daily video-blog (hereafter: vlog). This article presents and appraises the rationale, design, content and reception of the Project Eliseg vlog revealing key lessons in the use of digital media in archaeological fieldwork, particularly for those engaged with the archaeology of death, burial and commemoration.
Go to Table of Contents.
Features
Key words: video blogging; vlog; Pillar of Eliseg; Wales; engagement; media; excavation; fieldwork; access; practice
---
Internet Archaeology is an open access journal. Except where otherwise noted, content from this work may be used under the terms of the Creative Commons Attribution 3.0 (CC BY) Unported licence, which permits unrestricted use, distribution, and reproduction in any medium, provided that attribution to the author(s), the title of the work, the Internet Archaeology journal and the relevant URL/DOI are given.
Terms and Conditions | Legal Statements | Privacy Policy | Cookies Policy | Citing IA
Internet Archaeology content is preserved for the long term with the Archaeology Data Service. Help sustain and support open access publication by donating to our Open Access Archaeology Fund.
File last updated: Tue May 12 2015