---
2. Descriptive data
This paper attempts to summarize finds of fish remains recovered in Hungary during the last thirty years both on the basis of the available literature and more recent, unpublished materials. A register of 92 archaeological sites was compiled (Tables 1/a prehistoric sites, 1/b Roman sites, and 1/c medieval sites ) containing the number of identified fragments between the level of class ("Pisces sp.") and species, as well as the minimum number of individuals. In 69 cases the number of identifiable bone specimens was available for the other vertebrate taxa.
The spatial distribution of the most commonly identified fish species is shown on three maps in gross chronological sub-divisions: prehistoric, Roman and medieval (Figures 5-7). Prehistoric sites dominate the material available for study (Figure 5).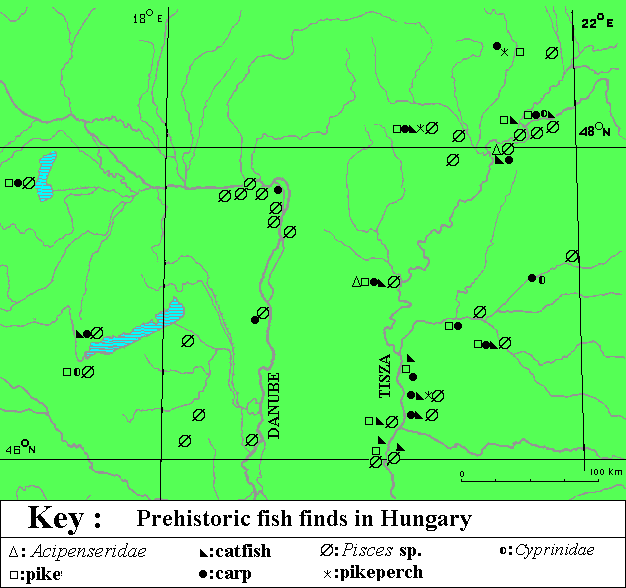 Fig.5 The geographical distribution of prehistoric fish finds in Hungary (1987).
Although only a few unidentified fish remains have been reported, especially in western Hungary, some patterning does seem to emerge along the Tisza river. This river, along with its tributaries, yielded remains from a variety of species. Of these, catfish seems particularly important in the marshland along the slow-flowing river. On the other hand, bones of this widely-known species were found at only one site in the prehistory of Transdanubia, located at the western, swampy end of Lake Balaton. As may be expected, the prehistoric distribution of carp (and other Cyprinidae) bones is more homogeneous. In spite of their respectable size, Acipenseridae are rare and only one bone occurs at one site in the studied material.
Relatively few fish bones are listed from the Roman period, and all the sites are located in the former territory of the Roman province of Pannonia (Transdanubia; Figure 6).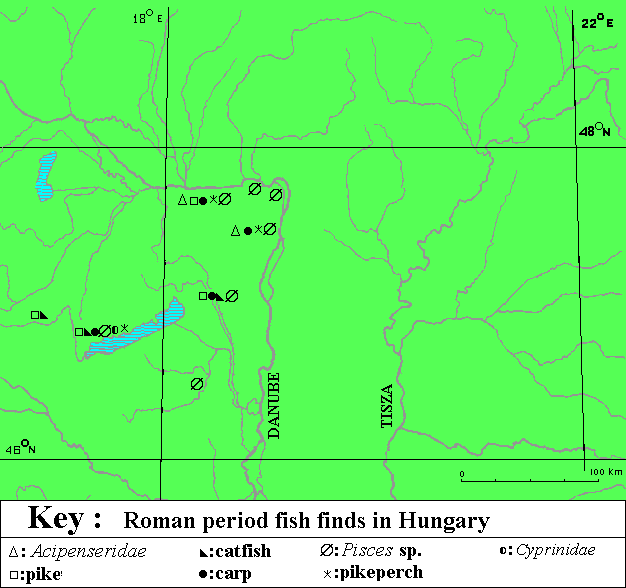 Fig.6 The geographical distribution of Roman period fish finds in Hungary (1987).
This raises the question of whether Migration period peoples occupying the east of the country had a tradition of exploiting aquatic resources or whether it was more typical of sedentary populations living within the Roman Empire. The presence of pike at several Roman sites is also interesting for, according to Keller (1913, 371) this species was not used as a food resource in Rome itself (Bökönyi 1984, 100).
In the Medieval material, catfish is represented at Trans Danubian sites as well. Acipenserid bones are common in the Danube Bend, a feature also observed for sites of Roman date. Written sources also emphasise the importance of sturgeon exploitation in the Middle Ages. Catfish and carp remains, however, still dominate at the earlier sites of eastern Hungary (Figure 7).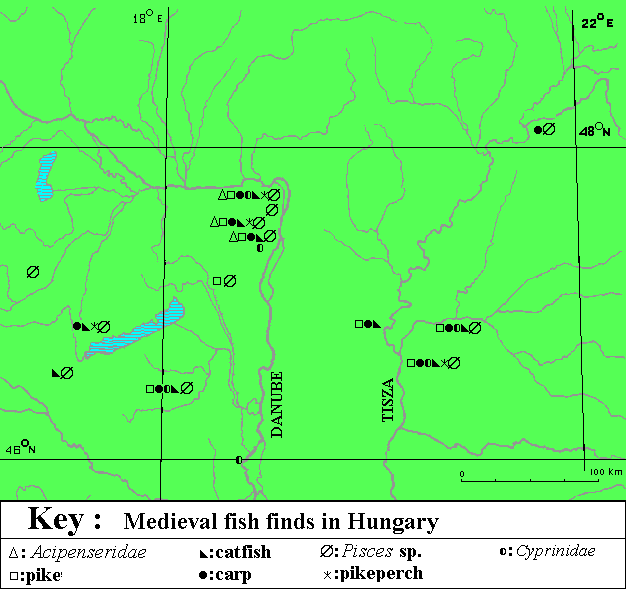 Fig.7 The geographical distribution of medieval fish finds in Hungary (1987).
---
© Internet Archaeology http://intarch.ac.uk/journal/issue4/fish/takacs/2des.html
Last updated: Thu Jul 09 1998