Urbanism in Ancient Peninsular Italy: developing a methodology for a database analysis of higher order settlements (350 BCE to 300 CE)
Jamie Sewell1 and Robert Witcher2
1. Department of Archaeology, Durham University, UK. j.p.sewell@durham.ac.uk / jamiesewell@web.de
2. Department of Archaeology, Durham University, UK. r.e.witcher@durham.ac.uk

Cite this as: Sewell, J.P. and Witcher, R. 2015 Urbanism in Ancient Peninsular Italy: developing a methodology for a database analysis of higher order settlements (350 BCE to 300 CE), Internet Archaeology 40. https://doi.org/10.11141/ia.40.2
Summary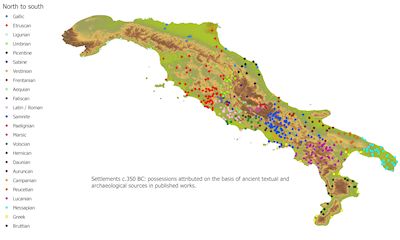 This article describes the methodology of a two-year research project to create an analytical database and GIS of 583 (proto-)urban centres on the Italian peninsula that existed between 350 BCE and 300 CE. The article is linked to the project's data files, deposited with the ADS, and is essential reading for users of the database. The research design, format and functionality of the database are described in conjunction with the challenges encountered during the methodological development of the project. The relevance of the project to the historical development of urbanism on the Italian peninsula during the period under study is outlined. An overview of the project's results provides an insight into the potential of the research methodology. It is relevant to anyone interested in ancient urbanism, Italian and Roman archaeology, or in the methods and results of combining ancient textual and archaeological legacy data with geospatial data.
Go to Table of Contents.
Features
Key words: higher-order settlements; towns; cities; proto-urban; Roman urbanism; pre-Roman Italy; Italian peninsula; analytical database; GIS
Publication date: 3 June 2015
Related archive: ROMURBITAL - an archaeological database of higher-order settlements on the Italian peninsula (350 BCE to 300 CE)
Open Access publication costs for this article came from project funding provided by a Marie Curie Intra-European Fellowship (Project No. 300969, Acronym: ROMURBITAL) awarded to Jamie Sewell, for research undertaken at Durham University from September 2012 to August 2014.