---
PREVIOUS NEXT SUMMARY CONTENTS ISSUE HOME
5.1 Diagnostic residue types
The diagnostic category here is defined as those residues containing enough specific visual traits to be unambiguously identified in situ on stone with reflected VLM. These residues are not easily mistaken for other materials and thus can be identified with a high degree confidence. The use of VLM is sufficient to identify residues listed in the diagnostic category. The only residue types in this experiment that were found to have diagnostic microscopic characteristics are: fish scales, downy feather barbules, and mammal hair.
Fish scales
Biological description
There are three main types of extant fish scales: placoid, ganoid, and cycloid and ctenoid, which are considered together because they are both derived from ganoid scales (Helfman et al. 2009, 36).
Placoid scales are found in the cartilaginous fishes (class Chondrichthyes).
Ganoid scales are found in the gars, bichirs, bowfin, and the caudal regions of sturgeons and paddlefishes.
Identification
Placoid scales, also known as dermal denticles, are platelike and have a rectangular base and spines. Shark placoid scales have a raised pedestal and winged keel that reduces drag during swimming.
Ganoid scales are typically rhomboid or diamond-shaped and have articulating peg and socket joints between them.
It has been argued that cycloid and ctenoid scales contain enough morphological features to be used for identification purposes in archaeology (Casteel 1974, 560). The diagnostic features of cycloid and ctenoid scales are: focus, calcified concentric ridges called circuli, and radii grooves radiating from centre focus (Lagler 1947). Cycloid scales are circular, thin, smooth, and flat. Ctenoid scales are similar to cycloid but additionally have posterior projections, such as a stiff-comb, cilia, or tubercles, modifications which are collectively called granulation (Elliott 2000, 102).
Fish species determination from a scale may be possible based on knowledge of species present in the geographical area of the site in conjunction with consultation of fish-scale reference collections.
Hardy et al. (2013) state that a feature of fish scales is that they are birefringent in normal light and non-birefringent under cross-polarised light.
Reference residue
Only a cycloid type of scale was examined.
Unfortunately, no scales were found on the reference collection flint flake used on the Cyprinid fish. Thus, another flake from a wider reference collection created by SC containing scales is illustrated instead (Figure 22), showing a similar species of Cyprinid fish scale (tench, Tinca tinca) scale on a flake.
Fish scales were diagnostically identifiable with VLM.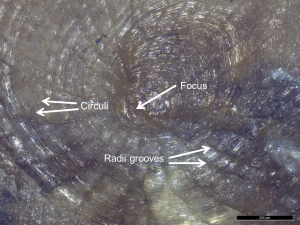 Downy feather barbules
Biological description
The downy barbule is a long subunit of the feather structure with tiny branches. Downy barbules are found in the plumulaceous region at the base of wing, tail, contour, and semiplume feather types, and throughout the length of down feathers.
Identification
In some groups of birds, the characteristics of downy feather barbules can be used to identify order, family, and sometimes even species (Dove and Koch 2010; Dove and Peurach 2002).
The features that can be observed in feather barbule fragments are: shape of nodes, distance between nodes, presence and shape of prongs, and pigmentation. Nodes and internodes in particular are diagnostic.
Identification cautionary notes
Modified setae or bristle hairs on the larvae of some species of the Carpet Beetle (family Dermestidae) and hairs from bats (order Chiroptera) can also appear similar to feather barbule nodes and prongs when viewed with VLM. There are two main types of dermestid larval setae: spicisetae (occur in most dermestids) and hastisetae (occur in megatomine dermestids). Both types of setae are segmented, often long, easily detachable, and spinulate or barbed to entangle predators (Kingsolver 2002, 228; Lawrence and Ślipiński 2013, 67, 91). Hastisetae are found on the posterior tergites of some species of dermestid larvae (Kingsolver 1991, 131) and can be identified as insect, not avian, in origin since their distal ends or apex terminations are spear or arrow shaped (this is an elaboration of barbed spicisetae) (Kadej 2012, 8), termination structures that are not present in avian feathers. Spicisetae can also be differentiated based on a fine structure showing numerous spikes (Ma et al. 1978, 719), which are overlapping and more densely-packed than individual nodes of feather downy barbules. Another issue to be aware of in terms of potential misidentification of feather downy barbules involves rodent and bat hair. The coronal scales commonly seen in rodent and bat hair (a feature uncommon in humans) might also appear similar on first inspection to the nodes and prongs of feathers. However, coronal scales encircle the diameter of the hair and appear more closely stacked than the nodes of feather downy barbules (Deedrick and Koch 2004a).
Reference residue
Downy feather barbules were found with VLM, diagnostically identifiable by the presence of nodes and prongs (Figures 23 and 24 respectively). Node to node distance, also known as the internode length, was 80 μm. Node max width ranged from 9-13 μm.
Downy feather barbules were diagnostically identifiable with VLM, but the prongs were also noted with SEM imaging (Figure 25).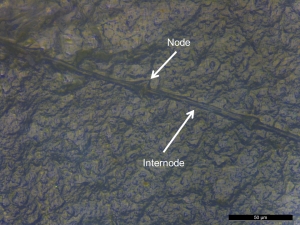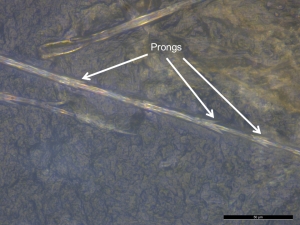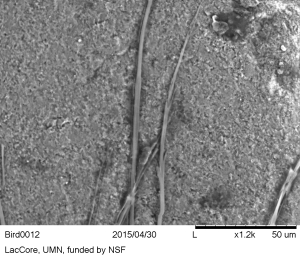 Hair
Biological description
Hairs are outgrowths from follicles in the skin of mammals and consist of a root, shaft, and tip.
Hair is composed of 65 to 95% protein (mainly keratin), but also contains water, lipids, pigments (such as melanin), and trace elements (e.g. metals) (Robbins 2012).
A hair has three layers: the outer cuticle or cuticula, the cortex (where pigments are located), and the medulla or central channel (Hausman 1924, 545; 1930, 258).
Mammal overhairs. The two main components of an animal's coat are the fine underhair (fur hairs) and the overhairs (guard hairs or protective hairs), which are longer and coarser (Hausman 1920a, 75). The overhairs are preferred for identification, having better taxonomic differentiation value than underhairs (Ludwig and Bryce 1996, 166; Teerink 1991, 6). The cuticle contains translucent overlapping keratin scales, which may be of different shapes depending on the species. There are three main scale structures: coronal (crown-like), spinous (petal-like), and imbricate (flattened), and combinations and variations of these are possible. The cortex appears as a homogeneous mass with light microscopy, composed of longitudinal, cornified, shrunken cells. The cortex also contains pigment structures in the form of granules, amorphous masses, or diffuse staining. The medulla is the innermost part of the hair and is composed of an arrangement of cells surrounded by air spaces (Feldhamer et al. 2015, 113), in either a unicellular layer or multicellular layers, which form distinctive patterns. The air spaces in the medulla appear dark under light microscopy (Brown 1942, 252).
Each hair also has two main regions along its length: the shaft region (proximal) and the thickened shield region (distal). The shield region scale pattern is generally not as good as the shaft region scale pattern for differentiating between taxonomic groups (Teerink 1991, 6). Major hair features that can be used for identification include: morphology and pattern of cuticular scales, morphology and pattern of cells in the medulla, medullary index, distribution of pigment structures in the cortex (colours and patterns of banding), shaft shape, cross-sectional shape, and root morphology (Hausman 1920b; Petraco and Kubic 2003; Titus 1980; Tobin 2005). Taxa identification of guard hairs down to the species level is possible (Deedrick and Koch 2004a; 2004b; Teerink 1991), if features have preserved well enough archaeologically.
Identification
Reference residue
The squirrel hairs in the reference collection were variable in size. The following hair widths were recorded: 13 μm, 19 μm, 20 μm, 48 μm.
The presence and pattern of the medulla (Figure 26) and cuticular scales (Figure 27) were captured in VLM.
Hair was diagnostically identifiable with VLM. However, SEM does show the scale patterns more clearly (Figure 28) than the reflected VLM micrographs.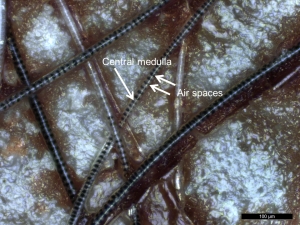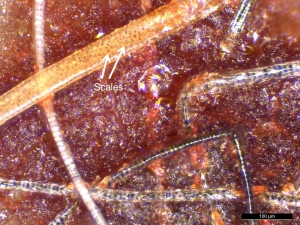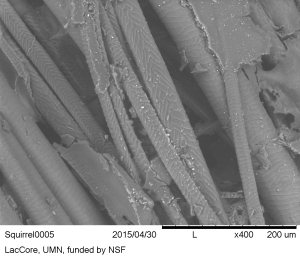 ---
PREVIOUS NEXT SUMMARY CONTENTS ISSUE HOME