A Virtual Tomb for Kelvingrove
Virtual Reality, Archaeology and Education
Melissa M. Terras
Formerly: Engineering Science/Centre for the Study of Ancient Documents, Christ Church College, Oxford University, Oxford, OX1 1DP. Email: m.terras@ucl.ac.uk
Summary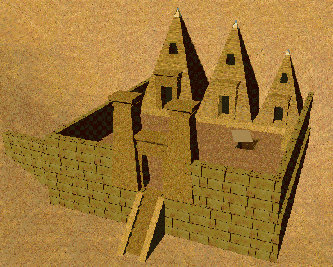 The use of computers as an educational resource in museums is becoming increasingly popular as more and more institutions realise that multimedia displays are very successful in imparting a broad variety of information. Although three-dimensional reconstructions of sites and structures have been used in archaeology for many years, the majority of museum computer installations have dealt with two-dimensional media because of the costs, equipment and labour involved in producing interactive 3D scenes.
The birth of VRML (Virtual Reality Modeling Language) has changed the way virtual reality is implemented and viewed. As an internet protocol, VRML can be used on most major platforms and implemented by anyone with a word-processing package, an internet browser, and the relevant plug-in. There is no reason why this new technology cannot be adopted by archaeologists and museums to produce virtual reality models of structures, sites and objects to aid the research of specialists and the education of the public.
This project (undertaken at the Humanities Advanced Technology and Information Institute, University of Glasgow, Scotland, between May and October 1998) investigated the practicalities involved in using VRML to create a virtual reality model for use in a public space. A model of the Egyptian tomb of Sen-nedjem was developed for installation in the Egyptian Gallery of the Kelvingrove Museum and Art Gallery, Glasgow, in the hope that the introduction of this computer display would encourage the museum visitor's interest in the gallery's existing artefacts. Creation of the model would also investigate the possibility of using VRML to build accurate archaeological reconstructions cheaply and efficiently using publicly available software and existing archaeological resources.
A fully functioning virtual reality model of the tomb of Sen-nedjem has been created, incorporating interactive elements, photorealistic representation, and animation, and the model can be seen in this article. However, because of technical problems as well as the educational issues raised, it was felt that the model was not suitable in this format for inclusion in the Kelvingrove Museum. The project has illustrated that although it is technically possible to create an archaeologically based virtual model using VRML, technical issues prevent this format from being a feasible way of displaying 3D worlds in a museum environment at present. The project has also shown that the creation of the virtual reality world is only the beginning of developing a virtual reality display for use in education. Both the user interface and the informative aspects of a model have to be carefully designed to ensure the resulting computer display has proven educational worth, and broad issues surrounding the nature of representation and reconstruction have to be addressed before such models will become commonplace in museums.
---
© Internet Archaeology