---
Microscopic examination
Examination of many bones under the light microscope demonstrated the presence of fine scratches caused by the abrasion of sand. Similar scratches were seen on the surface of the molar teeth belonging to Tom. This was probably due to dietary intake rather than sand abrasion, since the labial and lingual surfaces of the teeth lacked any such markings.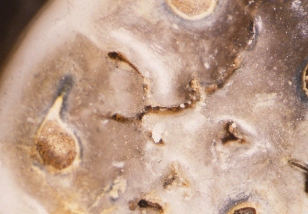 Figure 46: Photograph showing dental wearing on a molar tooth belonging to the mandible of Tom
Examination under the electron microscope was performed on a cut bone sample from the same humerus used for DNA extraction. This examination revealed the presence of Volkman's canals and Haversian systems, showing an exceptional state of structural integrity. Comparisons were made with an anatomical specimen (female humerus). There was no gross cellular material evident in the Pandora sample.
---
© Internet Archaeology URL: http://intarch.ac.uk/journal/issue11/4/32.html
Last updated: Thu Mar 28 2002