Travelling Beneath Crows: Representing socio-geographical concepts of time and travel in early medieval England
L. A. Symonds1 and R. J. Ling2
1Research Associate, Trent University Archaeological Research Centre, Trent University, Peterborough ON, K9B 7B8. leigh.symonds@utoronto.ca
2Peterborough Internet Pipeline, 250 Sherbrooke St, Peterborough, ON. K9J 2N4. rling@pipcom.com
Cite this as: Symonds, L.A. and Ling, R.J. 2002 Travelling Beneath Crows: Representing socio-geographical concepts of time and travel in early medieval England, Internet Archaeology 13. https://doi.org/10.11141/ia.13.1
Summary
Landscape has always been an important aspect of archaeological research. Recently there has been emphasis placed not on the identification of specific sites and artefacts but on past attitudes towards social interaction within the landscape. This has stimulated debate on how people, both as individuals and collective societies, understand space and human action. Many of these studies integrate computer applications and quantitative methods with current theoretical agendas focusing on landscape and social practice. The combination of theory and practice is essential to archaeological enquiry, enabling hypotheses to stand upon firm data.
This article explores theoretical understandings of space and landscape and the practical application of these agendas in a study which focuses on the production and consumption of artefacts, specifically pottery, in Anglo-Scandinavian Lincolnshire. Many archaeological approaches to landscape studies involve the ways in which monuments and monumental landscapes structure and are structured by the societies which built them and inhabited them. Alternatively, this article focuses on how the social practices associated with the production and consumption of pottery participated in the social cognition of the landscape. It specifically concentrates on how travel practices can be associated with artefact distributions by measuring the distances in hours rather than kilometers, travelling beneath the crows rather than following their straight line of flight.
Much of the analysis and exploration of the data was done via a GIS (Geographical Information System). In order to simulate this interactive process, java applets were employed to allow the reader to investigate the patterns of data for themselves. This enables the author and reader to establish a discourse through the reader's participation in the cognitive processes involved in the analysis of data and the interpretation of maps and landscape.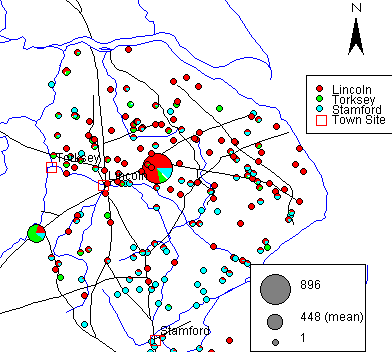 Acknowledgements
I especially wish to thank Alan Vince and Jane Young for the use of the East Midlands Anglo-Saxon Pottery Project (EMASPP) data for my doctoral research on which this article is based and for many helpful comments along the way. Julian Richards and Peter Halls (both University of York) were instrumental in discussing and commenting on the results of this research. Any mistakes remain my own. L.A.S.
Go to article Table of contents
Features
This article will appeal to: Graduate students of landscape studies and/or early medieval archaeology, Others interested in computer applications in archaeology
Key Features: Explores the ways in which artefact distributions can inform archaeologists about the social geography of past societies, Demonstrates ways in which GIS can be used to investigate cognitive understandings of landscape and social structure, Provides an interactive medium for display of archaeological data via a java interface which mimics the interactive abilities of a GIS.
Keywords:
---
© Internet Archaeology URL: http://intarch.ac.uk/journal/issue13/symonds_index.html
Last updated: Wed Nov 13 2002