---
2.3 Catherall's pottery
After about 1740, the Catherall family played a key part in the development of the Buckley pottery industry. Two branches of the family had potteries and brickworks (Messham 1956, 36). Jonathan Catherall was the more successful of the two branches. In 1786 he managed a brickworks and rented two potteries (site 8) built on an encroachment on the common. He lived in a tenanted public house nearby, which is now the Hope and Anchor public house (Messham 1956, 38). In 1798 Richard Warner, in his Walk through Wales, described Buckley potters distinguishing between 'strong' and 'weak' clay, mixing one part strong with two parts weak. He visited Catherall's pottery and stated that there were two kilns, one for large ware and one for small ware. By 1800 Jonathan Catherall had moved to a grand house, Hawkesbury, and had acquired interests in lead mines and collieries. By 1817 he had become the largest manufacturer of pottery in Buckley (Messham 1956, 39). His closest competitor was Hancock's pottery (site 14). The pottery had closed by the end of the 19th century.
Trade
Mid 17th-early 18th centuries
It is very difficult to identify trade at the time of the peak period of production, c. 1700. Documentary evidence is lacking. Pottery produced on the coal measure clays of south Lancashire, Buckley and Staffordshire is very similar and it is often not possible to specifically identify particular features of black glazed wares, some slipwares and mottled wares (Davey 1987, 98-99).
Evidence from excavations to date indicates that trade of Buckley pottery in the 17th and early 18th centuries was with the nearby regions of Chester, Cheshire and north Wales (Davey 1973; McNeil Sale 1980; Noake 1993; Webster and Barton 1957).
Late 18th century
By the second half of the 18th century there are a number of sources of documentary evidence. In 1737 the channel for the River Dee to Chester was straightened and a duty was placed on goods going out from the Port of Chester. In the Chester Port Register are records of the increase in the pottery industry between 1740-1769. Between 1740-1755 the trade was almost exclusively to Dublin. From 1752 onwards, the Irish trade became intermittent and increased to the Welsh ports. There was a steady trade with some ports, for example Caernarvon, Beaumaris, Pwllheli and Conway, and occcasional trade with others, for example Holyhead, Bangor, and Cardigan (Messham 1956, 31).
In c. 1780 Thomas Pennant visited Hawarden Parish and recorded that there were fourteen potteries which made between three and four thousand pounds worth of coarse earthenware a year, exporting most of it to Ireland and ports of the Welsh coast (Pennant 1784, Vol 1, 91).
There is a recognisable Buckley press-moulded slipware vessel with yellow and sometimes orange slip, which is trailed directly on to the body. This has been found on sites in Chester (Davey 1973, 35), Cheshire (Rutter 1976, 39) and Aberconway, north Wales (Butler and Evans 1980, 58-59). It is interesting to note that Buckley wares of the 17th and 18th centuries do not seem to have been traded north of the River Mersey.
19th century
The first half of the 19th century was the busiest period for Buckley. There was a flourishing local trade. In addition, mug sellers called at the works and hawked the pots far and wide (Messham 1956, 49).
Most of the documentary evidence for trade in the 19th century comes from the Catherall Papers (Flintshire Record Office) and covers the period from 1800-1852. The prosperity of this trade was founded upon exports by sea to Wales and Ireland. The pots were carted down to the River Dee at King's Ferry (now Queensferry) or Connah's Quay. A large number of carters or jaggers were employed, most from the local farms. In 1817 they made two journeys a day. A load of bricks or coal paid 1s 5d, and a load of mugs paid 2s 6d or 3s 6d. From the quay, the ware was usually shipped directly to Ireland or the Welsh coast. Sometimes it went up river to Chester before being shipped or was sent to Liverpool by the Ellesmere Canal for export through Liverpool (Messham 1956, 49).
The ships were small schooners, brigs or sloops, 40-150 tons. They brought lead ore from Cardigan, slates from Caernarvon, hides and linen from Ireland to the Dee and returned with coal, bricks and pottery (Messham 1956, 50).
Freight charges depended on the time of year. Earthenware freights were usually by the load, rarely by the ton. The pottery works sold the goods by the piece or dozen, articles ranging from large earthenware pans which were 'whole piece' or even ½ or ¼ piece, to small cups 36 to the piece. A load was ill-defined, from 60-90 pieces of ware and weighing 2-2½ tons (Messham 1956, 50).
The Catherall day-books show that the Irish and Welsh trade was for cheap earthenwares to supply the needs of the kitchen, pantry, table, dairy and bedroom. In 1800, about two-thirds of Catherall's earthenware exports went to Ireland. He also conducted a large trade in stoneware jars, kegs, barrels and bottles for the distilleries, having built a stoneware works to supply the industry in 1790 (Messham 1956, 52). The Welsh trade was to ports all along the coast including Pwellheli, Holyhead, Caernarvon, Aberystwyth, Fishguard, and Swansea. The port books in Carmarthen quote imports of black glazed pancheons, bread and potato crocks from Buckley in 1850, having come by sea from Chester and Flint (Messham 1956, 51).
The Catheralls did their own travelling for orders and to collect money. Jonathan Catherall made annual journeys to Wales and Ireland each winter for 40 years and his son continued this. On the journeys they would call on village merchants and ironmongers to ask for orders and to collect payment for the last order. The journeys were by horse or coach, later by train, and lasted about a month each time (Messham 1956, 53).
Later production: 19th and early 20th century
Throughout the 19th and 20th centuries, Buckley's main product was coarse domestic ware for use in the kitchen, dairy and around the house. This was a continuation of the traditional styles from the late 17th century and included jugs, bowls, basins, colanders and a range of storage vessels. The vessels were lead glazed over a red body giving the pots a brown colour, often with two or three bands of yellow slip on the upper part. Other similar vessels were finished with a glossy black glaze (Davey 1975a).
There was also a revival of the slipware and sgraffito techniques. Towards the end of the 19th century, rectangular press-moulded dishes were made, often with slip-trailed patterns or legends. Six-handled mugs and storage vessels were produced with extravagant slip-trailed designs. Many sgraffito ware items were produced, including tobacco jars, plates, saucers, tea-pots. The sgraffito decoration often included a motto and date and a number of crudely drawn leaves. The main production period was from 1870-1906, with a few very crude examples occurring as late as 1937 (Davey 1975a (see Figure 8).
Much of the pottery produced in Buckley is made from laminated clays, which fire a mixture of pink and red. This is disguised with a black glaze or yellow slip. If a clear glaze is applied, the deliberate agate result can be used as a decorative technique. There are two main types of agate ware, one in which the body itself is composed of mixed clays and the other in which a marbled effect is created by applying a mixture of different colour slips to a plain body (Davey 1975a).
Novelty pieces were a feature of the late 19th century, in particular money boxes, puzzle jugs and miniature chests of drawers, all with slip decoration. Some were made as personal gifts, bearing the recipient's name (Davey 1975a) (see Figure 6).
Rustic ware was produced from 1896 until at least 1927. Lead-glazed earthenware was scratched on the outer surface to produce an effect like the surface of a tree trunk. Small stumps of clay, with blobs of yellow slip on the ends, were often added to appear as sawn-off branches and a rectangular panel contained a legend in sgraffito. The most common vessels are self-watering flower pots, tobacco jars and butter pots (Davey 1975a) (see Figure 6).
The Buckley potters were influenced by the new ideas in the early years of the 20th century, when pottery began to be produced for its artistic quality, not just for use. Powell's pottery (site 15) was particularly productive between 1885-1929 when many individual pieces of high artistic and technical quality were produced (see Fig. 6). The vessels continued to be made of red earthenware, but this was disguised by a coating of almost white slip and then decorated with blues, greens, browns and yellows. Some of the finest vessels made were jugs and vases influenced by the Art Nouveau movement (see Figure 6). They also produced a range of novelty items such as hat-pin holders, salt and pepper cellars and butter dishes. Decorative tiles in Art Nouveau designs were also produced at this time (Davey 1975a).
As tastes changed and competition grew, the Buckley pottery industry gradually declined. By 1930 there were only two pottery manufacturers left, Hayes' pottery (site 10) and Lamb's (site 9). Hayes' pottery finally closed in 1942 and Lamb's a few years later, in 1946.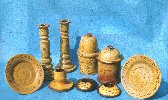 Late 19th and early 20th century Buckley slipwares (i).
Figure 5a: Six-handled mug, brown glaze, yellow slip-trailing. Figure 5b: Large storage vessel, brown glaze, yellow slip-trailing. Figure 5c: Sgraffito tobacco jar and jug. Figure 5d: Selection of sgraffito-decorated vessels. All © P.J. Davey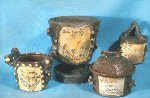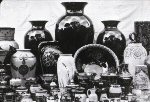 Late 19th and early 20th century Buckley slipwares (ii)
Figure 6a: Chest of drawers © P.J. Davey. Figure 6b: Rustic ware © P.J. Davey. Figure 6c: Vase, red earthenware, yellow slip and sgraffito design © P.J. Davey. Figure 6d: Powell's Pottery advertisement photograph
---
© Internet Archaeology URL: http://intarch.ac.uk/journal/issue16/1/ch2.3.html
Last updated: Wed Mar 24 2004