---
3. Brookhill Site
The site of Brookhill (NGR SJ 279655) is situated on a north-east facing slope overlooking the River Dee and the Wirral peninsula at a height of 140m above sea level. It is 12.5km west of Chester and 5km inland from Connah's Quay. It lies on the deposit of Buckley Fireclays, which outcrop along the line of the major fault, the Great Fireclay Fault.
The site is in an area of rough pasture on the edge of a modern industrial estate. It is now a neglected overgrown croft situated between the vast holes left after the extraction of clay for the Brookhill and Trap Brickworks. There is a disused lane across the north end of the site, which once served the brickworks. On the site, there is a modern ruined house, built in 1900, with a stable and hayloft (Figure 7).
The earliest map of the area dates from 1750. It shows the land belonging to Robert Davies Esq. of Gwysaney (D/GW/651 Flintshire Record Office), with the lane as the boundary. The same map records that 'Jonathon Catrell', who died in 1761, held the land east of the lane, on which the Brookhill pottery is situated. A map dated 1781 shows the cottages and encroachments on the estate belonging to the Lordship and Manor of Ewloe (D/GW/674 Flintshire Record Office). The land at Brookhill at this date is owned by 'Mr. Leach'. A map dated 1815 shows the location of two earlier buildings on the site, owned by Rev. Mr. Messham (D/BJ/346 Flintshire Record Office). The existence of the 1815 buildings were vaguely remembered by an elderly Buckley lady as 'a low whitewashed ruinous cottage', which was called Little Ewloe Farm (Bentley 1977a). The only map to show any buildings at Brookhill is the 1815 one. As the earlier maps clearly indicate other buildings and kilns around Buckley, it must be assumed that any buildings at Brookhill had ceased to function by 1750.
The excavation of the Brookhill site was carried out by James Bentley of Buckley over a period of about 20 years. He investigated an area of 1100 sq.m almost single handed and recovered more than 100,000 sherds of pottery and kiln furniture. He meticulously recorded each stage of the work in typewritten reports with plans of the excavation and detailed drawings of significant finds. Copies of these reports are now in the archives of the Flintshire Record Office at Hawarden, north Wales (see also Appendix 1). The finds and complete paper archive of James Bentley's research on the Buckley industries are in the collections of the National Museums Liverpool. His reports on the Brookhill excavations form the basis of the information for this present research.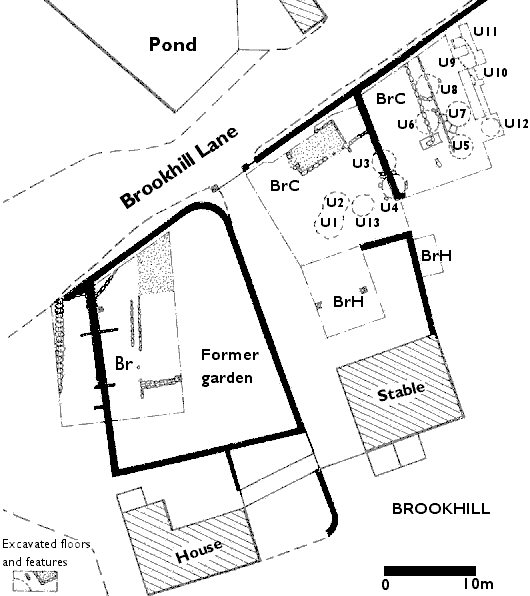 Figure 7: Plan of Brookhill pottery (after Amery and Davey 1979, 50)
Three areas have been investigated.
3.1 Brookhill (Br)
This was a trial excavation (Bentley and Harrison 1975b) carried out from June 1974 to October 1975 to investigate the west side of the croft. No kiln structures were discovered but there were considerable quantities of pottery wasters and kiln furniture, which suggested that a pottery production site must have existed nearby. The excavation was described in six 'strata', the important material being found in strata 3-6.
Two main phases of use were uncovered. In the earlier period, a layer of hard compressed pottery sherds had been used as a foundation for a building. A culvert was constructed at the same time as the building. This was covered by a layer of 6 to 9 inches of pottery fragments from the second period of activity. The upper surface of the site was covered in garden soil. During the latest use of the site, the garden area had been cleared. This had disturbed the lower layers and the pottery fragments had been thrown into a rough area and on to the surrounding bank.
The types of pottery found in area Br included clay tobacco pipes, large quantities of press-moulded ware, black glazed goblets, tankards, jugs, pancheons and slip-trailed black glazed bowls.
3.2 Brookhill Cinder Area (BrC)
This was excavated from October 1975 to 1980 in the eastern half of the croft, including part of the field beyond. Twelve possible kiln bases were uncovered. All except two were defined by shallow depressions filled with ash, coal dust, kiln furniture and wasters. They appear to be clamp kilns with the infilled material of clay and wasters acting as an underfloor flue. The two kilns without a depression were smaller than the rest.
Phase One
The first phase of the excavation of BrC was from October 1975 to August 1977. Six layers were excavated and described in James Bentley's report (Bentley 1977b).
Layer 1 consisted of compressed cinder and clinker with late 19th century and early 20th century pottery, clay tobacco pipes and industrial artefacts.
Layer 2 produced an area of clinker and fine ash resting on a dirt floor (Layer 3). Incorporated into the floor were numerous fragments of earthenware, clay and coal dust.
Layer 4 consisted of several strata of dirt, sherds, coal dust, debris and impacted vessels, mostly platters. In an area of loose material were found almost complete waster cups, goblets and two earthenware tripod cooking pots. The foundations of a building approximately 3m x 5m were located alongside two kiln bases (U3 and U4).
Layer 5 revealed more foundations of the building with door thresholds on the south side and on the east wall. Within this building were found late 17th-century type clay tobacco pipes and several large waster sherds of cisterns with spigot holes, white pipe clay, coal dust and red disturbed clay. The kiln base U4 was further investigated to reveal a shallow semicircular pit 200mm deep, lined with coal dust and red kiln ash. Two saggars and three waster vessels were inside the pit.
Layer 6 produced a general area of used red clay filling in the crevices in the natural underlying rock.Two further kiln depressions were revealed (U1 and U2) containing wasters, red kiln ash, lumps of clinker and coal cinders. Further investigation of U4 uncovered a loosely curved bed of stones approximately 0.4m wide inside which was a bright red matrix of kiln ash covering an area roughly 3m in diameter.
Finds from layers 1 and 2 are associated with late activity at the site and date from the mid-18th to the 20th century. The finds from layers 3 to 6 are wasters and kiln debris. Layer 3 appeared to be a working floor covered in coal ash and flattened coloured clays. The finds include two sgraffito platters. A Thomas Heys clay tobacco pipe dated 1695-1720 was found in Layer 4 along with a wide range of pottery fragments. These included fish-tail lug-handled posset cups, goblets and slipware plates and bowls. Layer 5 produced slipware beakers and a range of black glazed hollow-wares.
The contents of layer 6 were described as two lenses of concentrated ware classed as U1 and U2. The wares included slipware cups and globular vessels, porringers with press-moulded handles, posset cups with fish-tail lug handles, dripping basins, chamber pots, pedestal cups, fireclay cooking pots and a slipware female figurine. Sgraffito dishes were frequent in U1.
Phase Two
These excavations were carried out between October 1977 and March 1978 in an area of rough pasture measuring 10m x 6m to the east of Phase One. A working floor of reddish disturbed clay was found. This clay was also used to fill and smooth off the natural underlying rock to create a working area. The remainder of kilns U3 and U4 were uncovered. Three further working areas were revealed as shallow depressions, called U5, U6 and U7. These were the sites of further kilns (Bentley 1978a).
Site U5 measured approximately 2m in diameter. Hollow-ware vessels with jewelled and slip decoration were found embedded in a large shallow basin containing 100-150mm of fine kiln ash. Vessels included tiles, porringers with press-moulded handles, and sgraffito plates. Other types were a black glazed globular jug and clay tobacco pipes. Of particular note were fragments of light red shallow basins with pale tangerine-coloured glaze, decorated with warm yellow slip-trailing, found near the base of the depression.
Site U6 was situated about 1m north of U5, with an approximate diameter of 1.5m. Good quality decorated hollow-ware was found with the slip colours in yellow, light brown and dark brown. In addition, there were some vessels with marbled and jewelled slip decoration.
Situated approximately equidistant between U5 and U6, with its centre approximately 3m east, was Site U7. Kiln ash was 70mm thick, resting on a base of burnt kiln ash which had become almost vitrified, with a shallow depression in the floor. Between U6 and U7 was a group of bedded stones which appeared to be kiln footings. Platter fragments were common finds, many with slip-trailed designs reminiscent of grotesque beasts. Other types included globular vessels with external decoration, thin-sided basins with slip-trailing and jewelled decoration and clay tobacco pipe bowls and stems.
Phase Three
Excavated between March and May 1978, this was a further exploration of the adjoining field in the vicinity of U5, U6 and U7. Three kiln bases were uncovered, containing kiln ash and debris, pottery wasters, cooking pot fragments, platters and fireclay tiles and saggars. The kilns were described as U9, U10, U11. (Bentley 1978b).
3.3 Brookhill Homestead Area (BrH)
This area was excavated at various times in 1979 and 1980. There are no detailed notes of this area of the site. There is some information available within James Bentley's archive deposited in National Museums Liverpool (accession numbers 1995.95-98) in the form of notes and correspondence. Finds have also been recorded from an area called BrD, which refers to Brookhill Dwelling. Unfortunately it has not been possible to locate this area from the site plan.
3.4 Brookhill Catalogue
The archive prepared from the Brookhill site produced 200 boxes of finds and seven boxes of documentary archive, in addition to a large photographic collection and numerous finds drawings. Included amongst the 200 boxes were three boxes of sgraffito sherds. This material provided the basis for the catalogue of sgraffito vessels.
---
© Internet Archaeology URL: http://intarch.ac.uk/journal/issue16/1/ch3.0.html
Last updated: Wed Aug 22 2005