---
4.4.2 Barham, near Ipswich, Suffolk
The productive site at Barham overlooks the River Gipping, 8km north-west of Ipswich, with commanding views over a wide valley to the south and south-west. The Gipping valley provides a natural routeway from the coast to the Lark. This corridor is a convenient cross-country route to West Suffolk and the Fens, avoiding a perilous sea passage around the north Norfolk coast. Barham also sits at a natural crossroads where a major Roman route, the Pye Road, enters East Anglia and crosses the River Gipping. The parish church of St Mary's (recorded in Domesday) lies adjacent to the site.
Roman finds were reported in 1949 and minor excavations confirmed the presence of a Romano-British settlement. In the late 1970s Anglo-Saxon activity came to light when metal-detector users found objects that included a Merovingian tremissis and a gold stud set with garnets. Over 1000 finds of all periods have been recorded to date.
The Roman material covers an area of some five hectares and there are coins dating up to c. AD 380. There are no 5th-century finds, but a few objects may date to the 6th century and a trial trench revealed post-holes associated with 6th-century pottery. In 1981 an area of 500m² was excavated adjacent to the church, recovering two timber-built structures and ditches containing Late Saxon pottery. There is no clear evidence for Middle Saxon structures but deposits of dark earth certainly suggest occupation.
The 7th–9th century material covers an area of around 5 hectares, similar to that of the Roman finds. It includes some 50 coins and nearly 150 non-ferrous objects. Most of the coins fall between the mid-7th and the mid-8th centuries but the other artefacts demonstrate that activity extended into the early 9th century. They include numerous dress items, mainly of local manufacture but with some continental forms. The pottery assemblage recovered by field-walking, however, is typical of Middle Saxon rural sites in East Anglia, and suggests normal domestic activity underpinning the trading activity. Just one imported continental sherd was recovered, reflecting the overseas contacts seen in the metalwork.
The VASLE dataset was collected from the Suffolk HER with the assistance of John Newman. Newman (2003) concludes that Barham was a rural marketplace which had a central role within the local settlement hierarchy. It had far-reaching contacts, not unlike those of the wic site at Ipswich, which was developing at the same time, but which Newman believes had functions that were complementary rather than competing.
Fingerprint charts for i) artefact date analysis, ii) artefact type analysis, iii) artefact metal analysis and iv) coins – date of production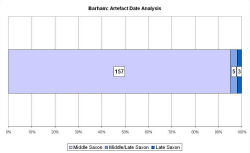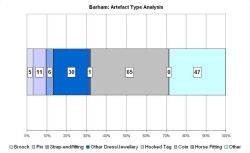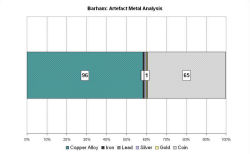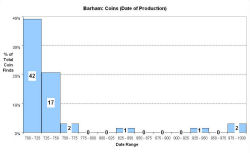 ---
© Internet Archaeology/Author(s) URL: http://intarch.ac.uk/journal/issue25/2/4.4.2.html
Last updated: Tues Apr 21 2009