---
4.4.21 East Walton, Norfolk
East Walton is located in West Norfolk, north-west of Swaffham and east of King's Lynn. The west of the parish is generally low-lying land intersected by streams and drains. The east is mostly open farmland. The River Nar forms part of the southern parish boundary. East Walton is recorded as Waltuna in Domesday, an Old English name meaning either 'settlement in a wood' or 'settlement on uncultivated moorland'.
Evidence suggests that during the Early Saxon period people were buried in the north of the parish. In the north-east there was a cremation cemetery, possibly with associated inhumations, and in the north-west there was an inhumation cemetery. Pottery, brooches, girdle hangers, sleeve clasps, burnt glass beads, molten metal fragments and cremated bones were found in the cemeteries.
Middle Saxon pottery, pins, brooches and an 8th-century coin have been found in the parish, concentrated to the south of the modern village, suggesting that there may have been settlement here. Late Saxon objects from the parish include pottery, strap fittings, hooked tags, brooches and a coin of Æthelred II. The VASLE dataset is derived from the Norfolk HER and the EMC.
Fingerprint charts for i) artefact date analysis, ii) artefact type analysis, iii) artefact metal analysis and iv) coins – date of production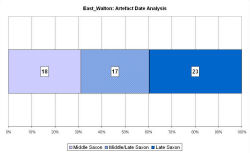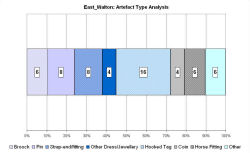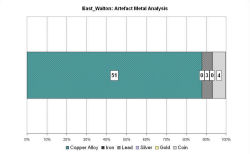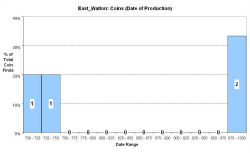 ---
© Internet Archaeology/Author(s) URL: http://intarch.ac.uk/journal/issue25/2/4.4.21.html
Last updated: Tues Apr 21 2009