---
4.4.20 East Rudham, Norfolk
East Rudham, from the Old English meaning 'homestead or farm of a man named Rudda', is a large parish in north-west Norfolk, lying close to the source of the River Wensum. To the west lies the paired village of West Rudham, a second 'productive site'. In Domesday Book East and West Rudham are treated as one settlement, with two churches and a number of 'outliers', including settlements at Bagthorpe, Houghton and Barmer, which suggests a fairly substantial settlement, perhaps a former estate centre (Pestell 2003, 128).
On the boundary between the two parishes there is evidence for a substantial but unexcavated Roman masonry building. A Roman main road, the Peddars Way runs north-west/south-east 6km to the west. A number of Early Saxon brooches, as well as mounts, pottery and other metalwork have been found in East Rudham, suggesting that it is the site of an Early Saxon inhumation cemetery.
Metal-detecting some 1.4km north-east of the site at West Rudham has produced a number of sceattas in a short space of time. A cross-shaped brooch and Middle Saxon pottery have also been recovered. The site lies 300m from St Mary's parish church.
Despite limited opportunities for survey, Saxon metalwork and coinage therefore suggests that East Rudham was an important Middle Saxon market, and a possible estate centre, with a higher proportion of coins than West Rudham. The VASLE dataset is derived from the Norfolk HER and the EMC.
Fingerprint charts for i) artefact date analysis, ii) artefact type analysis, iii) artefact metal analysis and iv) coins – date of production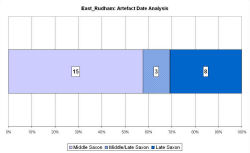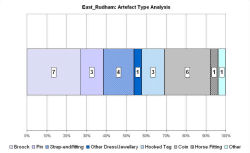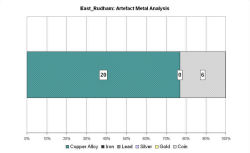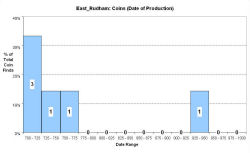 ---
© Internet Archaeology/Author(s) URL: http://intarch.ac.uk/journal/issue25/2/4.4.20.html
Last updated: Tues Apr 21 2009