---
4.4.25 Freckenham, Suffolk
Freckenham is located in the Mildenhall district of Suffolk, on the River Lark, at the boundary with Cambridgeshire.
In 2000, fifteen trenches were excavated in two fields in advance of proposed tree-planting and revealed scattered Saxon to post-medieval features. A large pit on the north edge of the eastern field contained domestic rubbish of c. 6th-century date and may be interpreted as a SFB.
Cambridge University and Faye Minter, then Suffolk Finds Liaison Officer, undertook a small amount of resistivity survey on the productive site in 2005 or 2006 but this remains unpublished. The VASLE dataset is derived from the EMC, PAS and the Suffolk HER.
Fingerprint charts for i) artefact date analysis, ii) artefact type analysis, iii) artefact metal analysis and iv) coins – date of production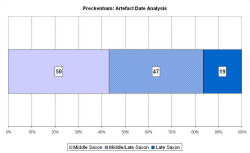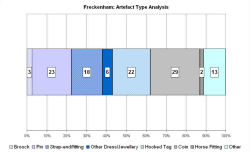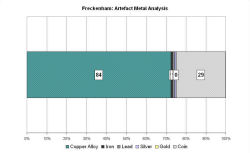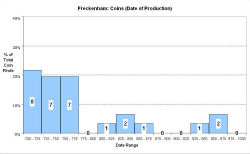 ---
© Internet Archaeology/Author(s) URL: http://intarch.ac.uk/journal/issue25/2/4.4.25.html
Last updated: Tues Apr 21 2009