---
4.4.28 Hollingbourne, Kent
Hollingbourne is situated on the North Downs on fertile land, served by springs that feed mill streams and ponds, and their neighbouring meadowland and woods. Prehistoric routes, including the North Downs Way and Pilgrim's Way, pass east to west along the Downs past Hollingbourne.
The location of the settlement at an important crossroads of routeways linking the historically discrete territories of east and west Kent therefore gives the site an important role in inland trading in the Middle Saxon period. Its importance may also be related to an ecclesiastical foundation in the 7th century, without any Early Saxon forerunner, as part of the original minster land of Maidstone (Brookes 2003, 95). The clear peak in coin loss in the first half of the 8th century may indicate church involvement and protection. The VASLE dataset is derived from the EMC and the PAS.
Later, the village is referred to in Domesday, and there are suggestions that its prosperity was growing at this time. Æthelred the Unready gave land at Hollingbourne to Canterbury's Christ Church, for monks' use, around AD 980-1015.
Fingerprint charts for i) artefact date analysis, ii) artefact type analysis, iii) artefact metal analysis and iv) coins – date of production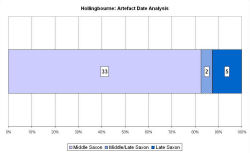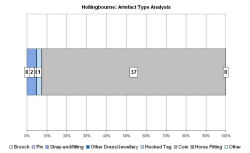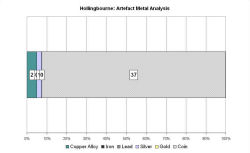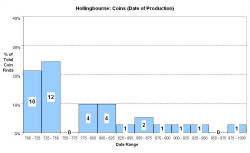 ---
© Internet Archaeology/Author(s) URL: http://intarch.ac.uk/journal/issue25/2/4.4.28.html
Last updated: Tues Apr 21 2009