---
1. Introduction
A major project studying Early Bronze Age grave goods is being undertaken at the University of Birmingham, funded by The Leverhulme Trust. The main purpose of the project is to identify better the occurrence of items relating to dress and ritual equipment in Beaker and Wessex graves throughout England. The main technique used is the visual examination of objects, using lenses and the binocular microscope, and we are including items made from gold, bronze, shale and jet, amber, bone and stone. The key themes of the project are the analysis of artefact function, the identification of specially selected raw materials, and the recognition of relics and heirlooms. This article will concentrate on certain aspects of archer's wristguards or bracers. Bracers in the British Isles are mainly of Beaker date; made from stone they often survive with contracted inhumations under small round barrows, as at Hemp Knoll, Wiltshire (Robertson Mackay 1980). The form of these artefacts, and their placing on the lower arm of the body, has suggested that they were intended to protect the inner wrist from the bowstring. However, our research so far has indicated that the stone bracers often may have been symbolic valuables for display, rather than basic functional items (Woodward et al. 2006; see also Fokkens et al. 2008).
The main Leverhulme project is studying all bracers from England, Scotland and Wales. Those from Ireland had been researched previously by Peter Harbison (1976), who published line illustrations of 100 items. Most of the bracers from Ireland are stray finds, with just a few for which there are some details of context (ibid, 7; Waddell 1998, 119). These include one from a cremation burial in a stone cist at Longstone, Co. Kildare (MacAlister et al. 1913, 355 and pl. XXXIX, no. 2), and a probable example made from red stone, found in one of the chambers of a court tomb at Ballywholan, Co. Tyrone (Kelly 1985). The two bracers from Corran, Co. Armagh, may not be from a burial (Harbison 1976, 8 and pl. 5, 14 and 16). They were found in a bog, in a box with a gold band, along with some gold discs and jet beads and these are likely to be contemporary with early Beakers (ibid, 8). Dating of the Irish bracers remains problematical, since the few available contexts are not very informative. Harbison noted that many of the stray finds are concentrated in Co. Antrim, corresponding with the distribution of Irish Bowl Food Vessels in that area, and he suggested therefore that the bracers may have been associated more with Food Vessels (ibid, 8-10). There is now a series of radiocarbon dates for Irish Food Vessels, which places the Bowl Tradition between c. 2200 and c. 1800 cal. BC at one sigma (Brindley 2007, 74) and this implies a possible chronological overlap with Beakers and so also with the Irish bracers. It may be noted additionally here that the item from Site C at Lough Gur, Co. Limerick (Harbison 1976, 27 and pl. 18, no. 94), which was found in association with Neolithic pottery, seems best interpreted as a pendant.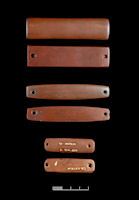 Figure 1: Jasper bracers: top from Ireland (ID16 British Museum), centre probably from Ireland (ID17 British Museum), lower from County Antrim (ID98 Hunterian Museum, Glasgow). Photographs by David Bukach.
The Harbison illustrations are all black and white, and only a small proportion of the bracers were examined by geologists. It was therefore decided to study a sample of the Irish bracers afresh in order to compare them with the English, Scottish and Welsh corpus. Our sample comprised 35 bracers housed at the National Museum of Ireland in Dublin. In addition, eight bracers from Ireland but housed in the British Museum, National Museums Scotland and The Hunterian Museum, Glasgow, were also studied in detail (see Appendix). We could immediately appreciate that the Irish bracers were very different from those in the mainland United Kingdom. They are often red in colour, have only two perforations, are long and narrow in shape and sometimes have end borings (Fig. 1). They also tend to be well finished to a highly regular outline and their cross-sections are often neatly formed to a plano-convex profile. There are only two bracers with a curved cross-section, approximating to the C1 variety known better from northern Britain (Harbison 1976, pl. 1, 4 and pl. 2, 5). In contrast to the distinctive group of red two-holed bracers, which were usually made from jasper, there was a second set of items that were predominantly grey, brown or black in colour.
---
© Internet Archaeology/Author(s) URL: http://intarch.ac.uk/journal/issue26/31/1.html
Last updated: Wed Jul 29 2009