The Intellectual Base of Archaeological Research 2004-2013: a visualisation and analysis of its disciplinary links, networks of authors and conceptual language
Anthony Sinclair
Department of Archaeology, Classics and Egyptology, University of Liverpool, 12-14 Abercromby Square, Liverpool L69 7WZ, UK. Email: sinclair@liverpool.ac.uk
Cite this as: Sinclair, A. 2016 The Intellectual Base of Archaeological Research 2004-2013: a visualisation and analysis of its disciplinary links, networks of authors and conceptual language, Internet Archaeology 42. https://doi.org/10.11141/ia.42.8
Summary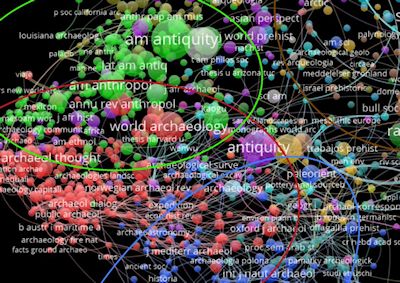 An exponential growth in research outputs, the great diversity of sources used, and the number of active researchers in archaeology make it impossible for any individual to present an overview of the discipline using reading and narrative alone. It is suggested that archaeologists might instead take a lead from scientometric studies and develop visualisations of their discipline as a research domain using data extracted from the citation indices. Three visualisations of the intellectual base of archaeology are presented, in the form of network maps of sources used, authors and terms. These maps, with their clustering of nodes, reveal the extreme multidisciplinary nature of archaeological research, patterns of overlapping and divergent communication networks among archaeological researchers, and the language and conceptual knowledge of archaeology. They also show marked variation in the gendered structure of academic reputations as created through citation practices across a series of specialisms of archaeology. Finally, these maps also suggest that archaeology as a discipline might be characterised by a process of fractal division into subgroups of practitioners following distinct but repeated forms of engagement in their archaeological enquiry.
Go to article Table of Contents.
Features
Keywords: archaeology, scientometrics, visualisation of research domains, intellectual base, citation numbers, multidisciplinary, interdisciplinary, gender, communication networks, conceptual knowledge
This research received no specific grant from any funding agency in the public, commercial or not-for-profit sectors.