---
PREVIOUS CONTENTS SUMMARY ISSUE HOME
Tre'r Ceiri: An Exceptional Walled Fort
George Smith and David Hopewell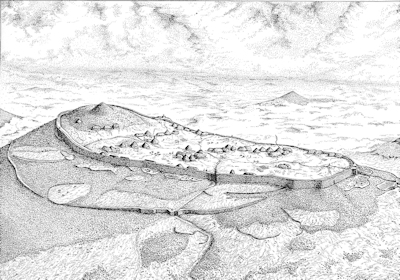 Best known of the hillforts with massive stone walled defences is Tre'r Ceiri, situated on a steep hill at 450m (1500ft) close to the north coast of the Llŷn peninsula (Figure E). Over the years it has been the subject of many visits and several excavations that have exposed some of the houses and made detailed plans of the whole. More recently a joint conservation project has been carried out for Cadw and Gwynedd County Council by Gwynedd Archaeological Trust, which has recorded and consolidated the defensive wall and entrances and some of the houses, made a new survey and carried out a trial excavation and consolidation of the summit cairn. The work was carried out each summer over 10 years with archaeologists from Gwynedd Archaeological Trust and a team of three local masons (Figure H).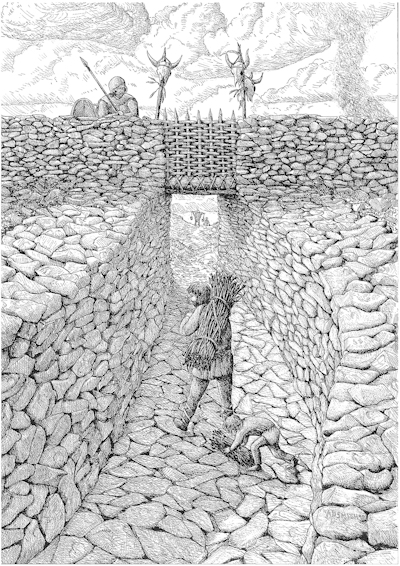 The walled defences at Tre'-r Ceiri consist of a main inner wall and a partial outer wall on the less naturally defensible side. The inner wall stands in places up to 4m high including parapet breastwork. The wall was faced with horizontally laid, large irregular slabs taken from the nearby scree with smaller infilling? a core of smaller stones. Experimentation during the conservation programme showed that the wall was built by placing slabs in position without careful selection for fit or facing. This meant that the wall could be built quite rapidly. The reconstruction work showed that three men could build about 1m of fort wall per day. Surprisingly, therefore, the whole circuit of 620m, impressive as it is, could have been completed by a workforce of 100 men in about 20 working days.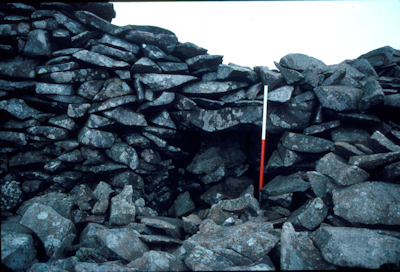 There were two main entrances, each about 2m wide, making them easily defendable. The north-west entrance was the most accessible, approached through a simple gap in the outer wall, which was enlarged on either side of the entrance, possibly just for appearance's sake. From this outer entrance a paved track ran diagonally up across the slope, with flanking walls and overlooked by the inner wall, so providing defence in depth (Figure F). There were also three very small and easily defendable 'postern' entrances through the inner wall and one of these survived, with a stone lintel showing that it had been a doorway built into the wall (Figure G).
Some other walled forts in Gwynedd demonstrate slightly more elaborate entrances. For instance, that at Caer y Twr, Holyhead, had flanking bastions, while that at Pen y Dinas, Llandudno, had a small 'guard chamber' built into it.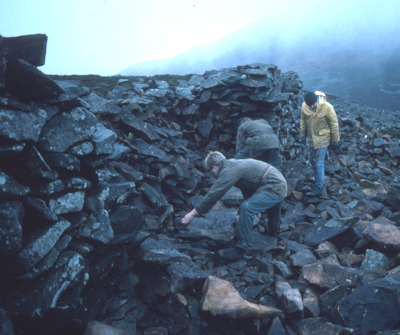 The remains of stone-walled buildings survive within many of the walled forts. At Tre'r Ceiri, in its original, Late Iron Age phase, there were 26 large roundhouses, probably with other non-domestic structures. The fort seems to have been abandoned for a while before being re-occupied in the Roman period, from the 2 nd century AD. The original roundhouses were subdivided and added to by as many as 150 smaller, irregular and sub-rectangular buildings (Hopewell 2018). The population of the fort in this later phase was greatly increased, but in much more humble circumstances, with no larger buildings of clearly higher status. This must reflect significant changes in the wider society of the area at this time. Nevertheless, Tre'r Ceiri must have remained a place of local importance and just one of the forts in the area that have produced evidence of re-occupation during the later Roman period when local political authority may have been re-asserted to some extent.
---
PREVIOUS CONTENTS SUMMARY ISSUE HOME