---
NEXT CONTENTS SUMMARY ISSUE HOME
From the Spreadsheet to the Table? Using 'spot-dating' level pottery records from Roman London to explore functional trends among open vessel forms
Michael Marshall and Fiona Seeley
Museum of London Archaeology, Mortimer Wheeler House, 46 Eagle Wharf Road, London N1 7ED. Email: mmarshall@mola.org.uk / fseeley@mola.org.uk
Cite this as: Marshall, M. and Seeley, F. 2018 From the Spreadsheet to the Table? Using 'spot-dating' level pottery records from Roman London to explore functional trends among open vessel forms, Internet Archaeology 50. https://doi.org/10.11141/ia.50.9
Summary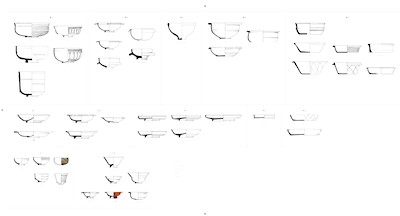 Intensive excavation and research over the course of decades have produced a very large dataset relating to Roman pottery from London. Research into the function of specific vessel forms has rarely been undertaken but information about the size, shape, fabric and condition of vessels recorded during routine identification and quantification of assemblages at MOLA (Museum of London Archaeology) and its predecessor organisations, has significant potential to inform functional interpretations. This evidence was used to explore the function of a sample of open forms, suggesting considerable variation in use and highlighting areas in which the quality of data needs to be improved to aid further functional analysis in the future. It was possible to use this evidence to show broad distinctions in the use of fine and coarse wares and to identify recurrent wear on a range of forms, mirroring those previously identified elsewhere. More subtle patterns relating to the use of lids in cooking, and a decline in the evidence for heating on similar coarse-ware forms over time, were also identified.
Go to article Table of Contents.

Keywords: Roman, London, pottery, function, fabric, usewear, cooking, dining, coarse ware, tableware
This open access publication was funded by the Arts and Humanities Research Council.