---
PREVIOUS NEXT CONTENTS SUMMARY ISSUE HOME
1.3 The Location of the Site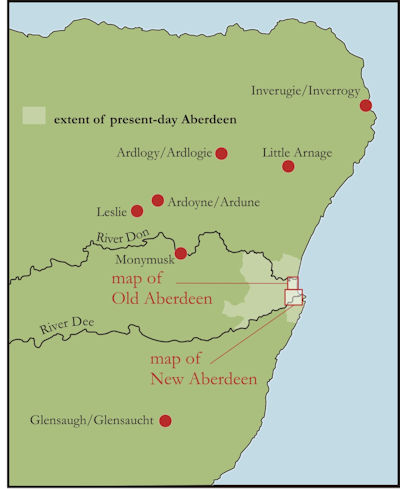 Further Location Information
Related Resources/Reports
The site of Aberdeen's Carmelite friary lies in the south-west portion of the medieval royal burgh of Aberdeen, sometimes known historically as New Aberdeen (Figure 4) (Figure 5), distinguishing it from its neighbour to the north, the ecclesiastical settlement of Old Aberdeen (Figure 6). The friary was situated in the area known as the Green (Figure 7). At the time of excavation, and today, the site was bounded to north by the street also known as The Green, to south by Rennie's Wynd, to west by standing buildings fronting on to The Green and to east by Martin's Lane. Observation of service trenches along Carmelite Street extended the area of exploration to the east, as did the opportunity to undertake work east of Carmelite Street in an area of friary graveyard (see Trench location plan).
The Green area is of great antiquity, both in terms of medieval urban development and with regard to human settlement, the earliest deposits on this site dating to the later prehistoric period with a Mesolithic flint-working area having been recorded nearby (see Section 3.2). In the medieval period, the area was subject to waterlogging because of its proximity to the River Dee channel, but it was also close to the burgh's very busy harbour. Road travellers to Aberdeen from the south passed along The Green and, in the later medieval period, the area became something of a 'religious centre' with the presence side-by-side of both the Carmelite and the Trinitarian friaries.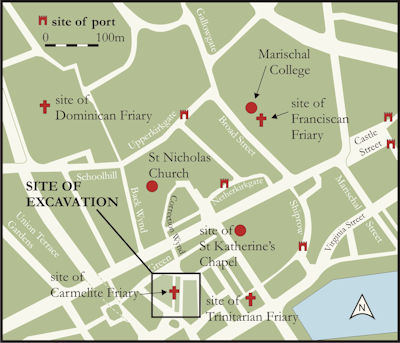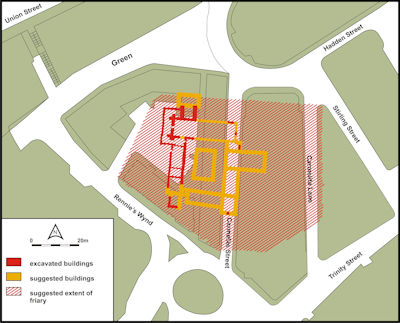 ---
PREVIOUS NEXT CONTENTS SUMMARY ISSUE HOME
Internet Archaeology is an open access journal. Except where otherwise noted, content from this work may be used under the terms of the Creative Commons Attribution 3.0 (CC BY) Unported licence, which permits unrestricted use, distribution, and reproduction in any medium, provided that attribution to the author(s), the title of the work, the Internet Archaeology journal and the relevant URL/DOI are given.
Terms and Conditions | Legal Statements | Privacy Policy | Cookies Policy | Citing IA
Internet Archaeology content is preserved for the long term with the Archaeology Data Service. Help sustain and support open access publication by donating to our Open Access Archaeology Fund.