---
PREVIOUS NEXT CONTENTS SUMMARY ISSUE HOME
3.14 Phase 8: 17th-18th century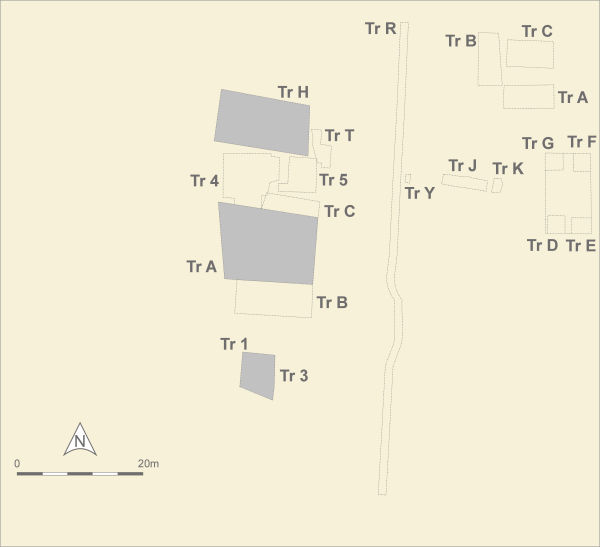 3.14.1 Cobbled surfaces
A small rectangular area of cobbling, AJR, [Photo 0082] was laid under what was to become Structure 7. It may have been a path.
To the south of the site, cobbled surfaces JBC, JBB and JBE probably belong to this phase; JBC and JBB appeared to overlie the southern wall of the South Range, which must have been demolished or ruinous by that time.
3.14.2 Linear features
AAL, AAM, ABB-ABF [Photo 0241] were shallow linear features filled with loose loam. They ran roughly parallel to each other and had rounded ends. AAK was a thin linear cut feature. It is most likely that these are animal burrows, as they were filled with very loose loam.
---
PREVIOUS NEXT CONTENTS SUMMARY ISSUE HOME
Internet Archaeology is an open access journal. Except where otherwise noted, content from this work may be used under the terms of the Creative Commons Attribution 3.0 (CC BY) Unported licence, which permits unrestricted use, distribution, and reproduction in any medium, provided that attribution to the author(s), the title of the work, the Internet Archaeology journal and the relevant URL/DOI are given.
Terms and Conditions | Legal Statements | Privacy Policy | Cookies Policy | Citing IA
Internet Archaeology content is preserved for the long term with the Archaeology Data Service. Help sustain and support open access publication by donating to our Open Access Archaeology Fund.