---
NEXT CONTENTS SUMMARY ISSUE HOME
The social organisation of metalworking in southern England during the Beaker period and Bronze Age: absence of evidence or evidence of absence?
Chris Carey1, Andy M. Jones2, Michael J Allen3 and Gill Juleff4
1. School of Environment and Technology, University of Brighton, East Sussex, BN2 4GJ. Email: C.J.Carey@brighton.ac.uk
2. Cornwall Archaeological Unit, Fal Building, County Hall, Truro, Cornwall, TR1 3AY
3. Allen Environmental Archaeology, Redroof, Green Road, Codford, Wiltshire, BA12 0NW / Department of Archaeology, Anthropology and Forensic Science, Faculty of Science and Technology, Bournemouth University, Dorset, BH12 5BB
4. Department of Archaeology, Laver Building, University of Exeter, Devon, EX4 4QE

Cite this as: Carey, C., Jones, A.M., Allen, M.J. and Juleff, G. 2019 The social organisation of metalworking in southern England during the Beaker period and Bronze Age: absence of evidence or evidence of absence?, Internet Archaeology 52. https://doi.org/10.11141/ia.52.4
Summary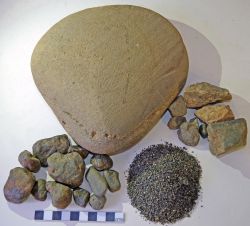 This article attempts to consider the social dimensions of metalworking during the Beaker period and Bronze Age in southern England. However, any attempt to discuss the social context of metalworking in these periods, i.e. who was working metals and where these activities occurred, is confronted with an extremely low evidence base of excavated archaeological sites where metalworking is known to have taken place. This lack of data and subsequent understanding of metalworking locations stands in stark contrast to the thousands of Beaker and Bronze Age metal artefacts housed in museum archives across Britain. These metal artefacts bear witness to the ability of people in Beaker and Bronze Age societies in Britain, and particularly southern England, to obtain, transform and use metals since the introduction of copper at c.2450 BC. Such metal artefacts have been subject to detailed analytical programmes, which have revealed information on the supply and recycling of metals. Likewise, there have also been significant advances in our understanding of the prehistoric mining of metals across the British Isles, with Beaker and Bronze Age mines identified in locations such as Ross Island (Ireland), the Great Orme (UK) and Alderley Edge (UK). Consequently, there is detailed archaeological knowledge about the two ends of the metalworking spectrum: the obtaining of the metal ores from the ground and the finished artefacts. However, the evidence for who was working metals and where is almost completely lacking.
This article discusses the archaeological evidence of the location of metalworking areas in these periods and dissects the reasons why so few have been found within archaeological excavation, with the evidence for early metallurgy likely to be slight and ambiguous, and possibly not identifiable as metalworking remains during excavation. Suggestions are made as to where such metalworking activities could have taken place in the Beaker period and Bronze Age, and what techniques can be applied to discover some of this evidence of metalworking activity, to allow access to the social dimensions of early metalworking and metalworkers.
Go to article Table of Contents.
Keywords: archaeology; Bronze Age; copper; Britain; Beaker; metal; metalworking; society; evidence
This open access publication was funded by University of Brighton.