Publican Project Survey Results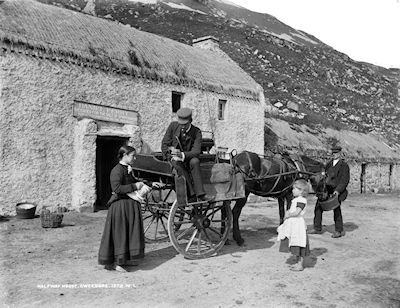 Halfway House at Gweedore, Co. Donegal, probably by Robert French
c.1884. National Library of Ireland on The Commons, Ref.: L_ROY_01372.
No known copyright restrictions
Executive summary
Report by Nicole Beale
View full text report here.
In June-July 2017, the Archaeology Data Service (ADS) and Internet Archaeology invited the archaeological community to contribute to a study aimed at building a picture of the impact that the resources which they provide for the digital dissemination of archaeological outputs are having on the profession.
Individuals from commercial units, local and national government, independent consultants, freelance specialists and civil society (i.e. independent bodies, charities, NGOs) responded to an online survey that asked questions about current practice around archiving and publishing findings from archaeological work. Some of these respondents offered to take part in follow-up semi-structured telephone interviews, during which additional comments and suggestions were noted.
The results of this work are presented in this report. This work forms part of a broader project, PUBLICAN, conducted by the ADS and Internet Archaeology and funded by the University of York. PUBLICAN ran from April 2017 to July 2017 and aimed to conduct impact-generating activities for both ADS and Internet Archaeology that could contribute to the organisations' understanding of how current workflows, profile-building activities, and stakeholder perceptions were impacting on the effect of ADS/Internet Archaeology resources on archaeology.
Survey and interview participants
75 individuals took part in the study, filling in the online survey, and of this total, 28 volunteered to be interviewed. Not all volunteers were interviewed, due to the time constraints of the study. An additional 3 participants were interviewed, identified by Internet Archaeology and ADS as key stakeholders. The sample for this study was fairly representative of the make-up of professional archaeology in England. Commercial archaeology units were slightly under-represented and local government slightly over represented. The roles of participants was, however, representative of the breakdown of skills within the profession as a whole.
Evidence for REF submission
This work has produced a collection of evidence for use as part of an internal REF case study submission. Relevant quotes from participants have been categorised and saved in a centralised repository for re-use in the future for marketing materials as well as for REF evidence. The report from this study and transcripts has provided a basis for a system for collecting new evidence in the future. This has been established and shared with ADS and Internet Archaeology. The key findings are outlined below.
Key findings
Use of ADS and Internet Archaeology
The findings from the survey showed that the ADS was used by most participants once a month or once a week, whereas Internet Archaeology was used a few times per year by half of the participants. This means that users of Internet Archaeology may be experiencing a considerable learning curve for each visit, as use is infrequent.
Open access
There is some work required to clarify in the profession the responsibility of the cost of open access publication, particularly at what point open access should be mandated/recommended. The main finding from the interviews is that commercial units and freelance specialists are willing to incorporate resources for open access into planned work, but that for this to occur, a substantial change in recommendations and support is required from local government archaeologists and curators.
Significance of ADS
This study found that the ADS is having a positive impact on practice in the following areas:
Improving the design of development projects
Saving time when researching using existing resources (Grey Literature (GL) and Library)
Filling gaps for HER records (OASIS)
Change in practice for local government in digital archiving through providing best practice example (Grey Literature Library and OASIS particularly influencing in this area)
Contributing to profile building for freelancing / contracting specialists and commercial units
Highlighting gaps in service provision for digital dissemination away from archaeology
Improving workflows for local government
Enabling local government to make archives available and improve contracted work at a regional level
Provided CPD for the profession (Guides to Good Practice)
Challenged perceptions about forms of publication (Library and GL).
Challenges and barriers for ADS
Peer review and validation were seen as most significant factors for digital dissemination to occur, alongside content being free to access.
When asked to identify challenges, the key concerns were:
Cost of the production and submission of archives
The sheer amount of information available, and the resource and skill required to overcome this issue
The process for archiving itself, within the context of planning and care for the heritage environment, particularly amongst universities.
Barriers to submitting to ADS:
Awareness institutionally of resource required to prepare for submission
Ownership of data
Competition from less-sustainable organisationally-hosted websites.
Challenges and barriers for Internet Archaeology
Internet Archaeology has contributed positively to the profession through:
Profile building for specialists
Changing publication practice to include data and links to data
Enhancing the HER (specifically tied to Internet Archaeology's move to open access).
Challenges for Internet Archaeology:
Lack of awareness of open access (fear of subscription costs)
Complexity of publication process (lack of skill in publication amongst non-academic stakeholders)
Misconceptions about coverage of publication (perceived as theoretical only)
Format of publication (need amongst contributors and readers to access information in different formats, such as PDF, for re-use and ease of reading)
Competition from printed local monographs (local government and commercial units prioritising local publications).
Barriers to publishing with Internet Archaeology:
Digital publication typically outside of usual work (lack of organisational-level support)
Lack of prioritisation of publishing (particularly amongst local government)
Perceived to be for 'academics' rather than practitioners
Printed matter seen as more stable
New forms of publication risky, easier to use established routes for publishing (particularly for commercial units).
Key stakeholders requiring attention
Universities undertaking research and failing to communicate with local government (but making use of and producing ADS resources).
Local societies: to improve awareness and skill around digital dissemination (particularly at the project planning stage to ensure digital archiving and publication is considered and fairly funded).
Archaeology curators and county archaeologists in disengaged regions (advising commercial units and community projects to archive and publish without taking into account digital issues).
Freelance and smaller units, not currently including digital dissemination preparation costs in tenders.
---