---
Editorial
Rachel Parks
Cite this as: Parks, R. 2007 Editorial, Internet Archaeology 22. https://doi.org/10.11141/ia.22.9
In late September 2006 around 20 postgraduates met in the Department of Archaeology, University of York for 'Gathering our Thoughts', the first meeting of the Mesolithic Postgraduate Research Forum. The aim was to provide an informal setting where postgraduates from over the U.K. and Ireland could meet and discuss their research. Over the course of the two days ten papers were given, six of which are now published within this themed issue of Internet Archaeology. (A full list of forum paper titles are listed in vol 18.1 2006 of Mesolithic Miscellany.
To encourage discussion across varying methodological and theoretical approaches, the meeting specifically avoided a set theme. The following articles, however, do share common themes such as past human diet, the move from a Mesolithic to Neolithic way of life and the integration of archaeology within its landscape setting.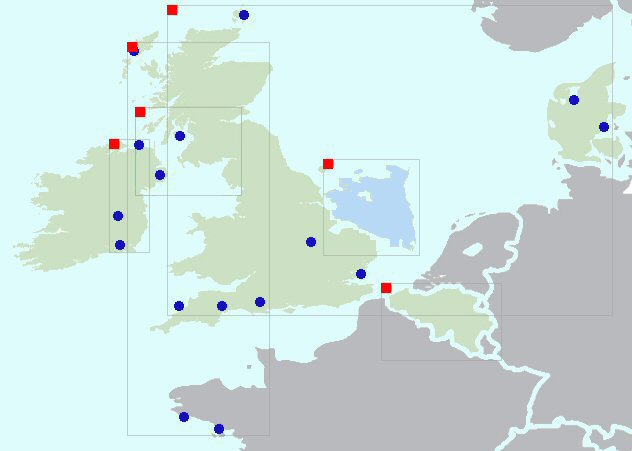 Distribution of sites (blue) mentioned in the articles. Boxes with red square indicate extent of study areas.
Rowan McLaughlin's article 'Diet in Mesolithic Europe: New evidence from dental microwear' introduces a technique still in its infancy within Mesolithic studies. McLaughlin discusses the value of microscopic toothwear patterns in providing information on the short-term diet. The dental microwear patterns of Mesolithic and Neolithic dated individuals from three areas, the north Irish Sea, southern Britain and Brittany, are described and possible explanations for differences in microwear, such as differing food consumption or preparation, discussed.
In 'Where are we going? Movement and Mobility in Mesolithic Research' Thomas Kador offers an alternative approach to mobility in the Mesolithic. Departing from traditional models, where movement is a consequence of factors such as subsistence and resource availability, Kador aims to understand the way people move by integrating lithic artefact and landscape evidence. After discussion of previous approaches to movement and mobility, Kador illustrates his methodology with three case studies from his work in Ireland.
A landscape usually inaccessible to archaeologists is revealed in Fitch et al. 'In Sight of Doggerland: From speculative survey to landscape exploration'. The authors discuss their use of petroleum industry 3D seismic data to model the Mesolithic landscape of the southern North Sea. Relict landscape features, such as coastlines and estuaries, have been identified. Whilst still in its infancy the authors propose that the use of seismic modelling may significantly change the interpretation of terrestrial evidence in England and Europe.
Back on dry land, territoriality as a means of social mediation is explored in Erick Robinson's article 'Cultural Landscapes and Neolithisation Processes: Outline of a model for the Scheldt basin'. Robinson uses an applied hunter-gatherer ethnoarchaeology to inform his re-examination of the existing archaeological data at the Mesolithic-Neolithic transition in this area of Belgium. A highly structured and diverse cultural landscape may be the reason, Robinson suggests, a hunter-gatherer way of life continued alongside incoming agriculturalists.
Also concerned with the move from Mesolithic to Neolithic, Eva Laurie's article Cockle Conversations: An investigation of the cockle collection practices at two Danish kitchen midden sites' returns to the question of dietary change. Laurie discusses the season and intensity of cockle collection and wider shellfish gathering patterns at two sites, Krabbesholm and Norsminde, during the Mesolithic and Neolithic. She considers the significance of regional and temporal differences that may appear at odds with general accounts of shellfish gathering practices in Denmark.
The final paper is Hannah Cobb's article 'Media for Movement and Making the World: Exploring Materials and Identity in the Mesolithic of the Northern Irish Sea Basin'. Cobb argues that existing interpretation in the area is inadequate due to modern geo-political boundaries and a predominantly environmental and economic focus. To counter this she advocates an explicitly phenomenological re-examination of the archaeological evidence and aims to provide a more social narrative.
Acknowledgements
'Gathering our Thoughts' was organised by Naomi Belshaw and Rachel Parks. We would like to thank all those who participated and made the meeting so enjoyable. Funding was provided by the Department of Archaeology, University of York and staff and research students in the department kindly lent their time and advice.
---