School of Simulation and Visualisation (formerly the Digital Design Studio) at the Glasgow School of Art, 167 Renfrew Street, Glasgow G3 6RQ. Email: mhairi.maxwell@vandadundee.org
Cite this as: Maxwell, M. 2017 Power is in the Process: The ACCORD project, Internet Archaeology 44. https://doi.org/10.11141/ia.44.10
Summary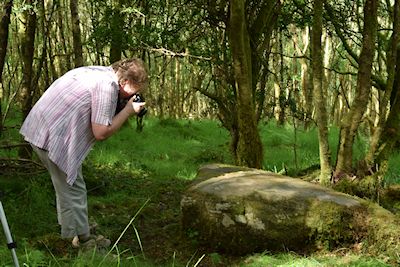 The ACCORD (Archaeology Community Co-Production of Research Data) project worked together with communities to create 3D digital visualisations of heritage. Communities across Scotland chose monuments and sites that were of particular interest to them and then participated in the whole process of creating 3D visualisations of those places (from data-capture, to processing, to archiving) together with researchers and heritage professionals. In the main we used consumer-level technology and relatively easy to pick up techniques of photogrammetry and Reflectance Transformation Imaging, while occasionally also using the specialist technique of laser-scanning
I was the Post-Doctoral- Research-Assistant on the ACCORD project for 12 months from March 2014 through to 2015 and this article will reflect on my experience of participating in the making of 3D digital visualisations together with ACCORD communities. It argues that there exists in the field of digital heritage an uneasy tension between the current motivation to produce objective computerised visualisations and the actual desire of heritage community groups to connect to the past on a more emotional level.
The article revels in the participatory process of making 3D digital visualisations of heritage; its power as a medium for inclusion, exploration and expression. This article should be read with reference to the digital archive published here.
Go to article Table of Contents.
Features