---
NEXT CONTENTS SUMMARY ISSUE HOME
To treat or not to treat… Insights into the Strategic Decision-Making in the Archaeological Conservation and Restoration Laboratory of the Brussels Capital Region, Belgium
Ann Degraeve1* and Jef Pinceel2
*Corresponding author: 1. Head of the Department of Archaeological Heritage, Heritage Direction, Brussels Regional Public Service, rue du Progrès 80, 1035 Brussels, Belgium. Email: adegraeve@sprb.brussels
2. Archaeological conservator, Royal Museums for Art and history, project officer for the Heritage Direction, Brussels Regional Public Service, rue du Progrès 80, 1035 Brussels, Belgium. Email: jpinceel@sprb.brussels
Cite this as: Degraeve, A. and Pinceel, J. 2018 To treat or not to treat… Insights into the Strategic Decision-Making in the Archaeological Conservation and Restoration Laboratory of the Brussels Capital Region, Belgium, Internet Archaeology 49. https://doi.org/10.11141/ia.49.10
Summary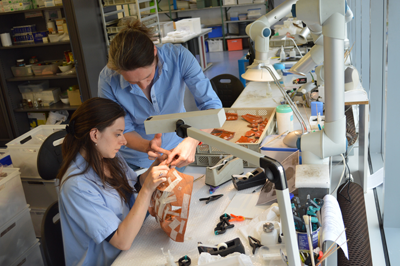 Since its foundation in 2002, the laboratory of the Department of Archaeology of the Brussels Regional Public Service has been responsible for the conservation and restoration of all archaeological objects unearthed within the territory of the Brussels Capital Region. The volume of artefacts collected in the Region has drastically increased following the systematic organization of preventive archaeological research. It quickly became clear that in order to make the best use of available resources, strategic decisions would have to be made.
An extensive and complete active conservation and restoration of every object found during an archaeological excavation is often neither realistically possible nor necessarily useful. The principal goal of archaeological conservation is the retrieval of information, held by the objects to further our understanding of the past. During this process it is important to try and minimise the input of resources while attempting to maximise the informational output and to preserve the future informational potential of the artefacts. Protocols for treatment should be developed for the different types of materials encountered, clearly defining different possible levels of preventive conservation, active conservation and restoration. These levels can range from strictly passive or preventive conservation to highly complex active conservation or restoration treatments. The choice for any level of treatment should be determined by the potential information yield of an object and therefore the resources invested should always be balanced with the results that could predictably be obtained. This does require careful and professional assessment of all archaeological finds by a conservator, in order to recognise the informational potential of each object and to correctly apply the established protocol.
Go to article Table of Contents.

Keywords: conservation, restoration, preservation, finds, laboratory, Brussels, preventive archaeology
This open access publication was funded by Europae Archaeologiae Consilium.