---
NEXT CONTENTS SUMMARY ISSUE HOME
A Toolbox for Archaeological Heritage Management. Maps, Methods and More for Effective and Efficient Selection of Valuable Archaeology
R.C.G.M. Lauwerier*, M.C. Eerden, B.J. Groenewoudt, M.A. Lascaris, E. Rensink, B.I. Smit, B.P. Speleers and J. Van Doesburg
Cultural Heritage Agency of the Netherlands, Ministry of Education, Culture and Science, The Netherlands.
*Corresponding author. Email: R.Lauwerier@cultureelerfgoed.nl
Cite this as: Lauwerier, R.C.G.M., Eerden, M.C., Groenewoudt, B.J., Lascaris, M.A., Rensink, E., Smit, B.I., Speleers, B.P. and Van Doesburg, J. 2018 A Toolbox for Archaeological Heritage Management. Maps, Methods and More for Effective and Efficient Selection of Valuable Archaeology, Internet Archaeology 49. https://doi.org/10.11141/ia.49.8
Summary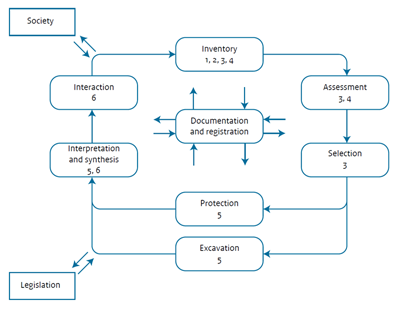 With the aim of providing knowledge for informed choices, a series of tools have been developed for archaeological heritage management in the Netherlands. They include maps, datasets, methods, guidelines, best practice and web-based applications to facilitate the effective and efficient selection of valuable archaeological remains. The products relate to archaeological predictive modelling, disturbances by agriculture and other activities, archaeological heritage maps, prospection methods, research questions and scientific syntheses to close the archaeological heritage management cycle.
Go to article Table of Contents.

Keywords: archaeological heritage management, archaeological maps, prospection, modelling, disturbances, research agenda, the Netherlands
This open access publication was funded by Europae Archaeologiae Consilium.