---
NEXT CONTENTS SUMMARY ISSUE HOME
Was there a Difference between Roman 'Civil' and 'Military' Samian (terra sigillata) Market Supply? Finding answers with statistical distribution analysis methods
Allard Mees
Römisch-Germanisches Zentralmuseum, Ernst-Ludwig-Platz 2, D-55116 Mainz, Germany. Email: mees@rgzm.de
Cite this as: Mees, A. 2018 Was there a Difference between Roman 'Civil' and 'Military' Samian (terra sigillata) Market Supply? Finding answers with statistical distribution analysis methods, Internet Archaeology 50. https://doi.org/10.11141/ia.50.16
Summary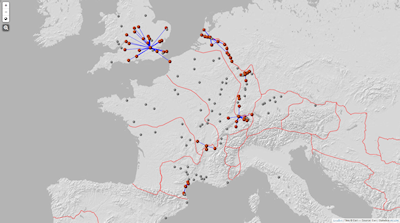 The Roman tableware pottery samian (terra sigillata) was distributed over the whole Roman Empire. From the early days of archaeological research, it has always been considered as an instrument not only for analysing Roman trading routes, but also for comparing consumption patterns in smaller regions and between individual sites. This article questions the degree to which samian can fulfil these expectations.
Go to article Table of Contents.

Keywords: Roman trade, distribution patterns, Roman economy, samian (terra sigillata), Arretine samian, network analysis, statistical methods, Roman pottery, La Graufesenque, Lezoux
This open access publication was funded by the Arts and Humanities Research Council.